NobleHour Celebrates National Volunteer Month With Video Tips and Free Book Giveaway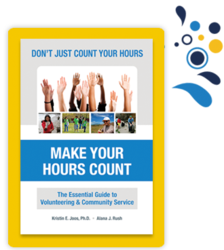 The civic engagement platform will celebrate National Volunteer Month this April by providing free volunteer resources.
Lakeland, FL (PRWEB) April 03, 2012
In honor of National Volunteer Month this April, NobleHour launched a campaign to raise awareness and create excitement about volunteering and service. Each weekday during the month, the civic engagement platform will post a volunteer tip video and give away a free copy of the volunteer guidebook "Don't Just Count Your Hours, Make Your Hours Count". To view the volunteer tips and enter to win a copy of the book, visit http://noblehour.com/volunteer.
"We want to remind everyone how easy it is to get involved and connect with their community. Starting a new volunteer opportunity can be intimidating, but with the right resources it can be effortless. Our team at Noblehour believes that not knowing how to take the first step should never keep someone from making a difference," explained Pia Simeoni, NobleHour's Director of Marketing.
Furthermore, NobleHour is determined to help current volunteers expand their service. On noblehour.com, volunteers can find and post volunteer opportunities, track hours, and generate reports on their civic engagement. Through these features, NobleHour strives to connect volunteers and organizations with their communities.
"It's important that volunteers are not just serving to meet requirements, but also to create meaningful relationships with the world around them," said Scott Fore, NobleHour Managing Partner. "In order to create change, we need to connect."
April 11-14, the NobleHour team will connect with the service-learning community in Minneapolis, Minnesota. They are sponsoring the 23rd Annual National Service-Learning Conference, hosted by the National Youth Leadership Council.
About NobleHour
NobleHour is based in Lakeland, FL and was started by a team of knowledgeable business investors, representing over 70 years of unparalleled entrepreneurial and business experience. They developed SweatMonkey.org in 2005 as an online service learning management platform for students and schools. SweatMonkey was used by countless organizations such as the YMCA, the SPCA, the United Way of North Central Florida, and the University of Florida. SweatMonkey was rebranded and launched in 2012 as NobleHour.com.
For the original version on PRWeb visit: http://www.prweb.com/releases/prweb2012/4/prweb9353479.htm