Floor Scales Direct Announces Free Shipping on All Truck Scales Packages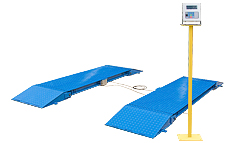 Customers of Floor Scales Direct can receive free shipping on truck scales shipped within the United States. The shipping offer is now available and savings will be reflected at checkout.
OLIVE BRANCH, Miss. (PRWEB) April 11, 2012
Floor Scales Direct, a leading retailer of truck and industrial scales, announces free shipping on its truck scales packages. Orders of truck scales or portable truck scales will receive free shipping within the United States.
Floor Scales Direct focuses on a commitment to total quality and total service. "We guarantee high-quality in every floor scale sold," says Matt Wendt, representative for Floor Scales Direct. "By offering free shipping, we can further serve our customers better by making the shipping process even more convenient."
Customers do not need a promotion code or coupon to receive free shipping. The savings on shipping costs will be reflected in the total price at checkout.
To receive a truck scale or portable truck scale that weighs 5,000 pounds or more, Floors Scales Direct requires that customers have a forklift and receiving dock. If a forklift is not available, customers should contact the company before ordering their scales and they will arrange liftgate services upon shipment.
"From large warehouses to startup trucking companies, our list of commercial clients is comprehensive," continued Wendt. "In addition to offering free shipping, we want to make delivery service as easy as possible. We realize that not every business may be equipped or setup to receive their truck scales. That's why we're pleased to help arrange liftgate services."
Floor Scales Direct also ships many of their scales by the next business day. Because lead times may vary, customers should contact the company to find out specific information regarding their shipment.
Scale orders are shipped via UPS or Motor Freight and are accompanied by a tracking number and delivery confirmation. All in-stock items are shipped within 48 hours of order confirmation. Any order placed Friday through Sunday will be shipped the following Monday.
To learn more or to purchase, portable truck scales, customers can visit http://www.floorscalesdirect.com
About Floor Scales Direct:
Floor Scales Direct is a comprehensive provider of complete floor scale packages, including truck, industrial, livestock and specialty scales. The company is a division of Triner Scale & Manufacturing Co., Inc., which was one of the first established scale companies in the United States in 1897. Floor Scales Direct ships directly from their headquarters in Olive Branch, Mississippi.
For the original version on PRWeb visit: http://www.prweb.com/releases/prweb2012/4/prweb9387170.htm