National Hardware Show to Feature Celebration of General Tools & Instruments 90th Anniversary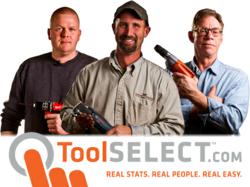 The National Hardware Show will be the location of the General Tools & Instruments 90th anniversary celebration, igniting discussion within the ToolSelect.com community.
Grand Rapids, MI (PRWEB) April 19, 2012
The National Hardware Show is generating a lot of talk in the ToolSelect.com community, particularly surrounding this year's NHS, which will feature the 90th anniversary celebration of General Tools & Instruments. The NHS will take place May 1-3, 2012 at the Las Vegas Convention Center.
General and its founder, Abe Rosenberg, played a large role in launching the first National Hardware Show in 1946, and chose the NHS as the perfect place to celebrate their 90 years in business. The first NHS hosted around 300 manufacturers, including General. Today, there are more than 2,000 exhibitors and 20,000 attendees.
"The National Hardware Show is a huge event every year," says Tom Klein, vice president of marketing and merchandising with ToolSelect. "A lot of people don't realize Abe Rosenberg, who founded General Tools, started the trade show with a vision to bring the entire industry together to showcase their products and the industry as a whole. We're excited to experience the 90-year celebration."
Founded in 1922 as General Hardware Manufacturing Company, Rosenberg and his wife, Lillian, got a lot of traction for the company with an egg slicer. This revolutionary specialty item opened the doors for General to be able to innovate for 90 years and counting.
The Rosenbergs built on their early success and developed a line of specialty items like circle cutters, metal punches and pocket screwdrivers. Today, General Tools, now under the management of Abe and Lillian's grandsons, Gerry and Martin, has a product line of more than 1,500 specialty tools and instruments.
"Being in business for 90 years and still going strong is exceptional for any company, and is deserving of congratulations," says Klein. "Celebrating the anniversary at the hardware show they created all those years ago is the perfect way to mark the occasion."
About ToolSelect
ToolSelect is an unbiased community powered by its members that covers all aspects, types and brands of tools, but does not actually sell any tools. ToolSelect's members include everyone from experienced tradesmen to complete novices. Users trade tips, compare notes, debate their favorite tools and work together to help each other make intelligent purchasing decisions.
Like ToolSelect on Facebook (ToolSelect)
Subscribe to ToolSelect on YouTube (toolselecttv)
Follow ToolSelect on Twitter (toolselectmedia)
For the original version on PRWeb visit: http://www.prweb.com/releases/prwebnational-hardware-show/general-tools/prweb9417114.htm