Entertainment Industries Council, Inc. Collaborates with the White House to Change Image of Girls in Science, Engineering, Technology, and Mathematics in the Media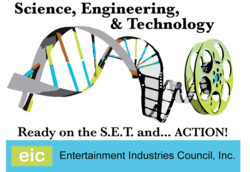 Social media conversations are continuing amid excitement for the Office of Science Technology Policy announcement and webcast
Washington, DC (PRWEB) May 04, 2012
Entertainment Industries Council, Inc. (EIC) is excited to announce that a recent White House event, which featured a panel of trailblazing women in Science, Technology, Engineering and Mathematics (STEM) fields, is now available for viewing online. At the April 24 event, sponsored by the White House Council on Women and Girls, young women who have studied and worked in STEM fields encouraged girls to follow in their footsteps – or blaze trails of their own. The event also featured the first public screening of "Girls in STEM," a short video about girls who participated in the 2012 White House Science Fair.
Women and girls continue to be significantly underrepresented in the STEM fields – a trend that starts early and comes at a serious cost to both the career prospects of our young women and the success of our economy. By ensuring women and girls receive the exposure, encouragement and support they need to enter and succeed in STEM fields, this country can benefit from the full range and diversity of its talent.
As announced in conjunction with the event, Entertainment Industries Council, Inc. (EIC) has organized a collaboration to support the promotion of girls and women to enter education and career paths within the fields of science, engineering and technology. Collaborators include: EIC, the esteemed organization providing creative resources to entertainment writers about key issues affecting society, which also produces the unique Science, Engineering and Technology (SET) Awards that recognize entertainment program stories that further public understanding of these fields; International 3D Society, founded to advance the art and technologies of stereoscopic 3D content and its professional innovators; Women In Film, dedicated to helping women achieve their highest potential within the global entertainment, communications and media industries and to preserving the legacy of women within those industries; and the Visual Effects Society, with a mission to educate and develop public awareness and understanding to support and encourage technological advancements in the field of visual effects. The reach of these organizations within the entertainment industry workforce from writers, producers, directors, to 3D engineers, and visual effects model makers, and technologists including entertainment from film, television, music videos and game industries creates an opportunity for aspiring girls and women to discover future employment opportunities within the evolving technologically advanced aspects of the entertainment industry of the future. The collaboration will work together to host creative briefings for entertainment industry networks, studios and production companies that accentuate the role of women and technology, engineering and science.
"Together, through our shared vision for change, we will work to mobilize a broad swath of the entertainment workforce to inspire girls and women to pursue technical careers within and beyond the entertainment industry. In the coming months and years, we will work together to host creative briefings for entertainment industry networks, studios, and production companies to inform them about the role of women and technology, engineering, and science," said Brian Dyak, President and CEO of EIC. "This work is made possible in part by Boeing's renewed commitment to support EIC's Ready on the S.E.T. and…Action! initiative and we looks forward to engaging other private partners to develop an innovative, creative, and diverse STEM workforce," he continued.
The White House event, moderated by EPA Administrator Lisa P. Jackson, included esteemed panelists Dr. Cady Coleman, NASA Astronaut, Colonel, U.S. Air Force, retired; Jocelyn Goldfein, Director of Engineering, Facebook; Dr. Jean Hernandez, President, Edmonds Community College; and Bianca Bailey, President, Howard University Chapter of Engineers Without Borders.