eGain Announces Fiscal 2012 Third Quarter Financial Results - Page 3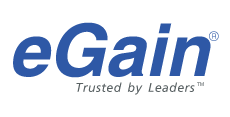 New Bookings Up 98% From Year Ago Third Quarter; New Hosting Bookings Up 186% From Year Ago Third Quarter; Total Revenue of $11.5 Million Up 29% From Year Ago Third Quarter
Quarterly Conference Call
eGain will discuss its quarterly results today via teleconference at 5:00 p.m. Eastern Standard Time. To access the live call, please dial (866) 253-6505, or outside the U.S. (703) 639-1207, at least five minutes prior to the start time. A live webcast of the call can be accessed from the investors section at www.egain.com. An audio replay of the conference call can be accessed at (888) 266-2081 (U.S. toll-free) or (703) 925-2533 (international). The replay will be available starting two hours after the call and remain in effect for one week. The required pass code is #1576238. An archive of the webcast will also be available on the investors section at www.egain.com.
About eGain
eGain (NASDAQ: EGAN) is a leading provider of cloud and on-site customer interaction hub software. For over a decade, eGain solutions have helped improve customer experience, optimize service process and grow sales -- across the web, social, and phone channels. Hundreds of the world's largest companies rely on eGain to transform their fragmented sales engagement and customer service operations into unified Customer Interaction Hubs (CIHs).
Headquartered in Sunnyvale, California, eGain has operating presence in North America, EMEA, and APAC. To find out more about eGain, visit http://www.eGain.com or call the company's offices: +1-800-821-4358 (US), +44-(0)-1753-464646 (EMEA), or +91-(0)-20-6608-9200 (APAC).
Note: eGain, the eGain logo, and all other eGain product names and slogans are trademarks or registered trademarks of eGain Communications Corp. in the United States and/or other countries. All other company names and products mentioned in this release may be trademarks or registered trademarks of the respective companies.
Cautionary Note Regarding Forward-Looking Statements
All statements in this release that involve eGain's forecasts (including the above stated guidance), beliefs, projections, expectations, including but not limited to our financial performance and guidance, the anticipated growth of our business, market trends, plans to invest in our business and expectations regarding the market acceptance of our products, are forward-looking statements within the meaning of the safe harbor provisions of the Private Securities Litigation Reform Act of 1995. These forward-looking statements, which are based on information available to eGain at the time of this release, are not guarantees of future results; rather, they are subject to risks and uncertainties that may cause actual results to differ materially from those set forth in this release. These risks include, but are not limited to, the uncertainty of demand for eGain products, including our guidance regarding bookings and revenue; our expectations related to our operations; our ability to invest resources to improve our products and continue to innovate; our partnerships; our future markets; and other risks detailed from time to time in eGain's filings with the Securities and Exchange Commission, including eGain's annual report on Form 10-K filed on September 27, 2011, and eGain's quarterly reports on Form 10-Q. eGain assumes no obligation to update these forward-looking statements.
Note: eGain is a registered trademark, and the other eGain product and service names appearing in this release are trademarks or service marks, of eGain Communications Corp. All other company names and products are trademarks or registered trademarks of their respective companies.
Copyright (2012) Marketwire.
All Rights Reserved.