New York City Skin Care Expert Skin Laser Studios Announces Gold Facial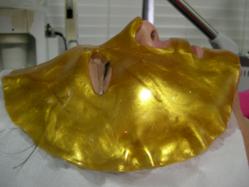 To celebrate Mother's Day, New York skin care expert Marta Rodriguez of Skin Laser Studios launches the Golden Girls Special gold facial - using 24 karat gold - for healthy skin.
New York, NY (PRWEB) May 09, 2012
Top New York City based skin care specialist, Marta Rodriguez, of Skin Laser Studios is launching a new service just in time for Mother's Day that makes clients skin glow, literally. The 'Golden Girls Special' is a luxurious treatment from Skin Laser Studios that includes a pampering Golden Facial plus a gold hydrogel mask to make skin look softer, plumper and younger.
The complex technology uses algae suspended in a collagen gel to provide maximum penetration into the skin. 24 Karat Gold flakes in a colloidal solution protect the skin from free radical damage while gotu kola, echinacea and bilberry are added to promote healing, enhance the immune system and heal and rejuvenate the skin.
Gold has long been a popular element in the history of skin care. While Cleopatra might be the most recognized lover of using pure gold as a mask to maintain youthful skin it was also used in ancient Chinese medicine for the same purposes.
Skin Laser Studios' new golden treatment is being launched to coincide with Mother's Day and is currently available in the Chelsea based studio in New York City.
"Interest in the mask has been really great" says Ms. Rodriguez. "People come in and are fascinated to learn that a gold mask can really improve the overall look and feel of their skin and they love the results".
Skin Laser Studios is located at New York's London Terrace 425 W 23rd Street #1F, New York, NY 10011 212-242-4777, and online at http://www.skinlasersolutions.com, Facebook.com/skinlaserstudios, and Twitter @SkinLaserStudio.
For the original version on PRWeb visit: http://www.prweb.com/releases/prweb2012/5/prweb9484623.htm