INM Helps Companies Prepare for Growing Mobile Market by Offering a Free Webinar on Mobile Design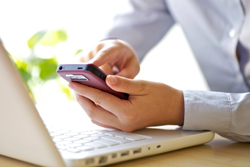 Helps companies understand how to create visually appealing mobile experiences that fulfill client expectations and drive results
Montreal, Quebec, Canada (PRWEB) May 11, 2012
Integration New Media, Inc. (INM), a leader in building engaging digital experiences, today announced the third instalment in its new webinar series. The session, entitled "Demystifying Mobile Design", looks at what goes into designing an engaging and successful mobile experience.
'With the number of mobile devices set to outnumber laptops and desktops combined by 2015, mobile is becoming increasingly import to every organization," said Vahe Kassardjian, president and co-founder of INM. "Now is the time to act to secure a foothold in this channel and to learn how to best leverage mobile as part of an integrated marketing strategy."
"Demystifying Mobile Design" looks at how user experience best practices can be used to create a visually appealing mobile interface that fulfills customer expectations and drives results. The session will start with an overview of the mobile landscape and the options available today from responsive web design, through to dedicated mobile apps. Next, the session will look at the key considerations for designing rich and gratifying user interactions, including:

Determining the needs and behaviors of mobile users
Addressing multiple screen resolutions and orientations
Designing for touch interfaces
Balancing image size and bandwidth
User testing for mobile platforms
This free webinar is slated for Wednesday, June 6, 2012 at 11:00 am Eastern. The content is geared toward project managers, marketers, web editors, web developers, designers and UX specialists.
To register, visit: https://www1.gotomeeting.com/register/741151409
About Integration New Media
Integration New Media (INM) builds engaging digital solutions that deliver results. For more than 20 years, INM has helped companies create enterprise websites and rich web applications, mobile websites and mobile apps, digital publications and digital archives. The company has a strong emphasis on delivering solutions that balance business objectives, software development best practices and user experience requirements. For more information, visit: http://www.INM.com/
For the original version on PRWeb visit: http://www.prweb.com/releases/prweb2012/5/prweb9490669.htm