2012 World Science Festival Presents Icarus at the Edge of Time - Narrated by LeVar Burton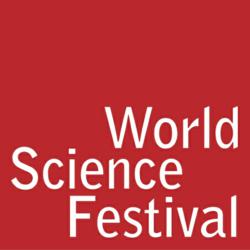 Wednesday May 30th, New York City - Tickets On Sale
New York, New York (PRWEB) May 21, 2012
The 2012 World Science Festival celebrates its 5th anniversary season with the opening night performance of Icarus at the Edge of Time, a multimedia performance featuring television and motion picture actor and director LeVar Burton (Star Trek, Reading Rainbow and Roots) as the narrator for the evening.
The performance of Icarus at the Edge of Time will take place at the United Palace Theatre, 4140 Broadway in New York City, on Wednesday, May 30, 2012, from 7:00 to 8:00 pm.
Icarus at the Edge of Time is a stunning, full-orchestral work with animated film and live narration that brings a powerful modern twist to a classic myth, taking audiences of all ages on a whirlwind voyage through space and time, to the very edge of understanding.
Icarus is adapted by physicist Brian Greene and Tony-Award winning playwright David Henry Hwang from Greene's young people's book of the same title and features an original orchestral score by Philip Glass, performed by the Orchestra of St. Luke's, conducted by Brad Lubman and a film directed by innovative, cutting-edge British filmmakers Al+Al.
The 2012 World Science Festival runs from May 30th to June 3rd, 2012 and presents more than 50 events, performances, lectures and special exhibitions, at venues throughout New York City.
The Festival was co-founded in 2008 by Brian Greene, Columbia University professor of physics and mathematics and bestselling author of The Elegant Universe and The Hidden Reality, and Tracy Day, Emmy Award-winning journalist and television producer. The annual event brings together many of the world's leading scientific minds with renowned artists and influential thinkers for a five-day celebration that, through discourse and debate, conversation and performance, the arts and exhibitions, allows everyone to experience science in a unique and thrilling way. Since its inception, the Festival has attracted some 600,000 people to more than 200 original programs.
TICKETS
Tickets for World Science Festival events are on sale now:

o Operators available: Monday – Friday, 9:00 AM – 9:00 PM. Saturday & Sunday, 10:00 AM – 6:00 PM
In Person: NYU Ticket Central @ NYU Skirball Center, 566 LaGuardia Place at Washington Square, New York, NY 10012
o Box office hours: Tuesday- Saturday, 12:00 PM (Noon) – 6:00 PM
World Science Festival ticketing services provided by NYU Skirball Center.
World Science Festival 2012 Cultural Partners, whose collaboration enriches the diverse spectrum of Festival programming, include:

American Museum of Natural History
Brooklyn Bridge Park
Eyebeam Art + Technology Center
Galapagos Art Space
Le Poisson Rouge
Lincoln Center for the Performing Arts
The Metropolitan Museum of Art
The Moth
Museum of the Moving Image
New-York Historical Society
Science Gallery, Trinity College Dublin
United Palace Theatre
The World Science Festival 2012 Media Partners:

ABC 7
ABC News
ABC Radio
Mental Floss
Popular Science
Time Warner Cable
The Week
WNYC
The World Science Festival's 2012 University Partners provide a broad range of Festival support. The 2012 University Partners include:

The City University of New York
The Cooper Union
Columbia University
The New School
New York University
The Rockefeller University