Wombat Security Technologies Introduces New Release of PhishPatrol, its Industry-Leading Anti-Phishing Email Filter - Page 2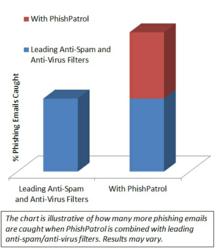 About Wombat Security Technologies
Wombat Security Technologies is a global leader in the fight against phishing attacks through innovative training solutions and breakthrough filtering technology. In their first line of defense, Wombat's anti-phishing email filter, PhishPatrol has been shown to catch significantly more many phishing emails than other leading filters. As a second line of defense, Wombat offers engaging and highly effective software-based employee training solutions. Wombat's customers include Fortune 500 companies, government agencies and small to medium businesses across numerous market segments.
For more information visit http://www.wombatsecurity.com or contact Lorraine Kauffman-Hall at 704-882-0443 or lhall(at)attainmarketing(dot)com.
For the original version on PRWeb visit: http://www.prweb.com/releases/prweb2012/5/prweb9529914.htm