Olympic Park to Host BBC Gardeners' Question Time Garden for the Games Special - Page 3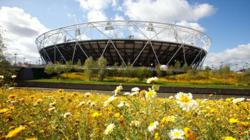 Plant your own Olympic Rings or Paralympic Agitos in your garden
Grow golden marigolds for when the Olympic Torch Relay comes to your street or town
Sow a colourful wildflower meadow - either a small strip in your garden or a large patch in a community area - which doubles as a haven for bees and other wildlife, like the golden meadows around the Olympic Stadium
Get creative with vegetables and flowers in the London 2012 colours
Grow a champions' feast for a London 2012 party
Plant in team colours to support your athletes or teams training in your area. Team GB supporters will be decking their lawns in red, white and blue.
Notes to editors:
For further information please contact the London 2012 Press Office.
London 2012 Games partners:
The Worldwide Olympic Partners who support the London 2012 Olympic Games and the National Olympic Committees around the world are Coca-Cola, Acer, Atos, Dow, GE, McDonald's, Omega, Panasonic, Procter and Gamble, Samsung and Visa.
LOCOG has seven domestic Tier One Partners - adidas, BMW, BP, British Airways, BT, EDF and Lloyds TSB. There are seven domestic Tier Two Supporters – Adecco, ArcelorMittal, Cadbury, Cisco, Deloitte, Thomas Cook and UPS. There are now twenty-eight domestic Tier Three Suppliers and Providers – Aggreko, Airwave, Atkins, Boston Consulting Group, CBS Outdoor, Crystal CG, Eurostar, Freshfields Bruckhaus Deringer LLP, G4S, GSK, Gymnova, Heathrow Airport, Heineken UK, Holiday Inn, John Lewis, McCann Worldgroup, Mondo, NATURE VALLEY, Next, Nielsen, Populous, Rapiscan Systems, Rio Tinto, Technogym, Thames Water, Ticketmaster, Trebor and Westfield.
There is one domestic Tier One Paralympic Games-only Partner, Sainsbury's and one domestic Tier Three Paralympic Games-only Supplier, Otto Bock. The London 2012 Paralympic Games also acknowledges the support of the National Lottery.
For the original version on PRWeb visit: http://www.prweb.com/releases/prweb2012/5/prweb9547643.htm