Simplex Spelling Phonics 2 Syllables - The Best Spelling App and Phonics at its Finest - Page 2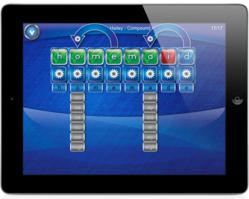 Simplex Spelling Phonics 2 Syllables, Simplex Spelling Phonics 1 and Simplex Spelling HD - Dolch Sight Words are now available on the App Store for $4.99 under the education category.
Evaluation copies of our Simplex Spelling apps are available upon request for educators, SLPs, OTs, reviewers and teachers working with technology integration. When requesting an evaluation copy, please indicate the educational institution represented along with the type of students you work with, such as grade level, ESL students, or children with special needs.
Pyxwise Software Inc. is an award winning independent developer of family friendly educational software. It was co-founded by Craig Welburn B.A.Sc, B.Sc. and Lisa Welburn Ph.D. in 2011. The Pyxwise series of applications can be found on the App Store worldwide by searching for 'Pyxwise Software Inc.'. Copyright (C) 2011 Pyxwise Software Inc. All Rights Reserved. Apple, iPad, iPhone and iPod touch are registered trademarks of Apple Inc., registered in the U.S. and other countries. App Store is a service mark of Apple Inc.
For the original version on PRWeb visit: http://www.prweb.com/releases/prwebpyxwise/phonics2/prweb9555294.htm