A New Social Network that Connects Immigrants with the American Dream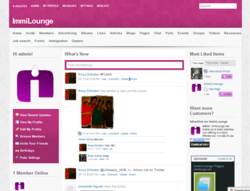 ImmiLounge, the only social network that connects American Immigrants and prospective immigrants with the American dream, is proud to announce its beta test release. ImmiLounge is the answer to the immigration issue and much more.
East Stroudsburg, PA (PRWEB) June 01, 2012
Finally, there's a free social network that connects immigrants with the American dream and much more. Brian Nguah's social platform is designed by immigrants for immigrants to connect them with jobs, health insurance, schools, scholarships, legal representation and much more. Users of the site will be able to meet other like minded members near them to share their life experience, conduct business and most of all live an easy, happy life.
ImmiLounge.com is practically the only social network that creates a free online community of immigrants. It is an incredibly powerful tool to help people who are new to America make connections and build a support system which will ease their transition into life in America. But it's a little more than immigration help because if it is used correctly, a person living outside the United States can create an entire support network before setting foot inside the country.
ImmiLounge is like a Facebook for immigrants only better since everything is free and there aren't very many restrictions. Members can create their own blogs with their names or their country's name, target specific groups to make connections and they can announce special events and parties. They are also empowered to post immigrant jobs in order to find an employee who has a special skill or simply find someone they feel comfortable working with.
Targeting Immigrants is something the business world has greatly ignored. ImmiLounge acts as a bridge connecting the business world with Immigrants. Immigrants who bring their entrepreneurial spirit to America can use the website to start a business by promoting their products and services on promotional pages. ImmiLounge.com also helps third party organizations directly target immigrants from a certain country with paid low-cost advertisements which are extremely effective as lead generators and create brand awareness.
Although created this year and undergoing beta tests, ImmiLounge is already gaining momentum with more and more people signing up every day. It is also a member of the worldwide who's who, an honorable organization directed by Donald Trump Jr. There is no doubt that it will be the #1 social network helping immigrants achieve the American dream. Visit http://www.immilounge.com/pages/aboutus or watch the promotional video at http://www.youtube.com/watch?v=gAfKvEqpIlc

For the original version on PRWeb visit: http://www.prweb.com/releases/prweb2012/6/prweb9548334.htm