AmericaFirst Capital Management Publishes New White Paper "A Defensive Approach to Turbulent Stock Markets"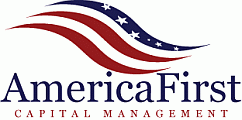 SACRAMENTO, CA -- (Marketwire) -- 06/04/12 -- AmericaFirst Capital Management is pleased to announce the release of its white paper, "A Defensive Approach to Turbulent Stock Markets." The paper highlights the AmericaFirst research into the benefits of investing in certain defensive industries over the long term. The paper also provides information on AmericaFirst's Defensive Growth Model, which seeks to provide capital appreciation regardless of economic and stock market trends.
Rick Gonsalves, AmericaFirst's President and Portfolio Manager, stated, "AmericaFirst continues to be a pioneer in the quantitative modeling arena. We look at each new model as another step towards finding the 'Holy Grail' of investment strategies."
The AmericaFirst Defensive Growth Model incorporates a long/short approach where 80% of its model allocation is in Non-Cyclical Defensive Stocks and the remaining 20% shorts domestic stocks of any sector.
Mr. Gonsalves further stated, "The Defensive Growth Model outlines a unique approach to Defensive Investing. Although stocks of companies in defensive industries have historically displayed less downside and lower correlations to the broad markets, they are still not exempt from feeling the effects of a Bear Market. By adding a 20% short exposure allocation, the Model is structured to reduce downside capture ratios in declining markets which we feel may enhance the long term benefit of the strategy."
In implementing short strategies the Model attempts to find the stocks of companies whose prospects for future growth look dim. In describing the AmericaFirst approach, Mr. Gonsalves commented, "The strategy by which we select short positions is strictly quantitative and time-tested. We short individual stocks rather than entire indices, which offers an opportunity to generate capital appreciation with short positions even in up markets."
The white paper is targeted for investment professionals and sophisticated investors. The paper and additional information may be requested by contacting your AmericaFirst relationship manager or clicking here.
For more information regarding the AmericaFirst investment vehicles, phone us at 916-787-9940 (extension 102).
About AmericaFirst Capital Management, LLC
AmericaFirst Capital Management, the adviser to the AmericaFirst family of Quantitative Funds, is a Northern California-based investment management firm. Founded by investment professionals for investment professionals, the core investment philosophy of AmericaFirst is the use of comprehensive, data driven, backtested and rules-based models to eliminate emotional response from the investment process. AmericaFirst's investment strategies include equity, income, defensive growth and absolute return investment vehicles. Additional information is available at www.AmericaFirstFunds.com. Investors interested in AmericaFirst's investment funds or research model may also contact the firm at (916) 787-9940 (extension 102).
We learn from history so investors don't have to!
Check out the AmericaFirst Blog
PAST PERFORMANCE DOES NOT GUARANTEE FUTURE RETURNS
No information provided herein should be considered to be related to any investment portfolio managed by AmericaFirst Capital Management. The model performance provided is hypothetical but does reflect the deduction of a 1% investment management fee that may be imposed in an actual portfolio. The Model does not reflect actual performance for any AmericaFirst's advisory client, and is based upon backtested performance which was derived with the benefit of hindsight. This document does not represent an offer of services.
Investment Advisors are encouraged to contact Rick Gonsalves (916-757-6113) to further discuss AmericaFirst's investment models.
Contact:

Robert G. Roach, Jr.
AmericaFirst Capital Management, LLC
Tel. (916) 787-9940
AFCM1027-060112


Copyright (2012) Marketwire.
All Rights Reserved.