Dallas-Based Social Media Startup PointBurst Looks to Assert a Texas Hold on the NYC Marketplace (#PointburstEvent)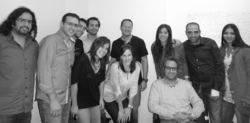 Southern, social media start-up, PointBurst, is set to expand to New York's Silicon Alley to meet the demands of a hot market and to acquire new tech talent. The opening of their New York offices mid-June is being celebrated with a kickoff soiree on June 21 for digital media mavens. The event will feature a conversation and Q&A with digital media strategist and thought-leader David Berkowitz (VP of Emerging Media at 360i) who will address guests on an ever-so-timely topic: "The Future of Social Media -- Will Brands Ever Wrangle in the Social Beast?" In addition to compelling debate on social media and technology innovation, guests will be treated to true Texan hospitality with catered barbecue fare from Hill Country BBQ Restaurant and an open bar featuring exotic summer cocktails. (#PointburstEvent)
New York City, NY (PRWEB) June 11, 2012
While most everyone enjoys a post-work cocktail and breezy conversation, there's an upcoming event that merits a far more substantive cause for excitement. Enter PointBurst – a fast-growing social media company from Dallas, Texas, that, on Thursday, June 21st, will bring together New York's digital media and brand marketing thought-leaders for a comprehensive, honest look at the future of social media amidst the chatter of recent social media acquisitions that have insiders wondering who and what is next.
The swaggering, southern start-up is set to open offices in two weeks in New York City's Flatiron District, home to a large culture of innovative tech startups. By expanding to New York, PointBurst is not only perfectly positioned to nurture existing East Coast enterprise clients in media, finance and social causes but they are also poised to scale their business with new clients waiting in the wings in this hot social media climate fueled by big deals and corporate demand tools. Also on the agenda for PointBurst out of their New York City digs, will be hiring top tech talent in Silicon Alley which will allow the well-funded company to continuously provide innovative solutions for clients.
Says company co-founder Phil Elias, "This is an exciting time for PointBurst. We are convinced that this is the right time and that New York is the right place to tap into the remarkable talent that the region has to offer and keep pace with the rapid momentum we are experiencing."
PointBurst's other co-founder Mick Twomey adds, "The opening of the New York office is an important milestone for PointBurst. It reflects our strategy of extending PointBurst's global footprint and to service our growing client base in key markets."
Together, Elias and Twomey look forward to PointBurst being a part of (and contributing to) the New York tech ecosystem and hopes PointBurst's Texas roots finds a fast and friendly home in New York City. So far, they're off to a great start. The June 21 event, taking place in the sophisticated Studio Arte space in Midtown, Manhattan, from 6:30 – 9:30 PM, will feature a 1-hour interview conversation and audience Q&A with digital media visionary David Berkowitz (@dberkowitz). As Vice President of Emerging Media & Innovation for award-winning agency 360i, Berkowitz develops social media and mobile programs for marketers spanning the media & entertainment, retail, travel, and CPG industries including the recently announced launch of 360i's "Startup Outlook" initiative which he spearheaded (an innovative program that marries startups with brands). Known for his witty and thought-provoking commentary on industry trends on his blog, Marketers Studio, and in mainstream media publications such as Advertising Age, Mashable, The Wall Street Journal, The New York Times, The New York Post and the Associated Press (to name a few), Berkowitz's insights into the future of social media during his interview will, no doubt, be much-anticipated and a highlight of the evening.
Set against the backdrop of a warm Summer evening, special invited guests will also be treated to a two-hour open bar of summer cocktails and, in wink to PointBurst's Texas roots, catered barbeque fair from Hill Country BBQ Restaurant (considered by New Yorkers and tech media mavens to be the best of its kind this side of the Mississippi Delta).
Event website: http://pointburstevents.com
PointBurst: http://pointburst.com
Event hashtag:#pointburstevent