Magnalight Responds to Mag Instrument's Lawsuit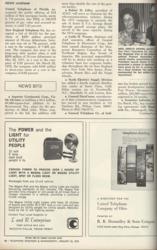 Mag Instrument, Inc. has filed suit against Larson Electronics' in California federal court for alleged trademark infringement, Case number CV11-10583MMM1SPX in the Unites States District Court, Central District of California. In its 76-page court filing, Mag Instrument, Inc. claims that Larson Electronics' continued use of Larson Electronics' Magnalight trademark infringes on Mag Instrument's family of trademarks, including the "Mag-Lite" mark. Larson Electronics asserts that its Magnalight trademark is a protectable trademark and that Larson Electronics' has priority in the use of its Magnalight trademark over any rights of Mag Instrument, Inc.
Kemp, TX 75143 (PRWEB) June 12, 2012
Larson Electronics has used its Magnalight trademark in conjunction with the manufacture and sale of Magnalight handheld lighting products continuously since 1973. Mag Instrument, Inc.'s federal and state trademark registrations indicate that Mag Instrument Inc. did not begin using its Mag-Lite trademark until 1979, six years later than the first use of the Magnalight trademark by Larson Electronics. Based upon applicable federal and state law, Larson Electronics' right to the use of its Magnalight trademark are senior to the rights of Mag Instrument, Inc.
The federal or state registration of a trademark does not cut-off the pre-existing common law rights of others. Professor J. Thomas McCarthy, Senior Professor and Founding Director of the McCarthy Institute for Intellectual Property and Technology Law of the University of San Francisco School of Law explains: "Neither application for, nor registration of, a mark at the federal level wipes out the prior nonregistered, common law rights of others. The nonregistered rights of a senior user continue and are not erased by the later federal registration of a junior user." J. Thomas McCarthy, McCarthy On Trademarks And Unfair Competition § 16:18.50 (4th ed.). "Thus, in a priority dispute between a senior common law user and a second-in-time user, the senior common law user will prevail."
Magnalight lights have been manufactured and sold throughout the US and Canada for over 44 years. Texas-based L&R Enterprises created the original handheld, portable Magnalights and marketed and sold those lights to agricultural customers. Following Larson Electronics' purchase of the Magnalight product line in 1973, Larson Electronics expanded its customer base to include cable and utility companies, law enforcement, petrochemical, oil and gas and manufacturing customers.
Throughout the 1960s and 1970s, Magnalight handheld, portable lights were sold directly to agriculture and utility companies through distributors like Stuart C. Irby and through a wide variety of equipment dealerships, including Allis Chalmers. Today, Magnalight lighting products are sold to many of the same customers and distributors as in 1973, as well as via Larson Electronics' website Magnalight.com.
The Magnalight name derives from the most popular configuration of the original Magnalight, which features a handheld light with magnetic base. The original Magnalights were portable and could be magnetically 'stuck' to a vehicle or a piece of equipment to provide work-area lighting. Through the years, Larson Electronics has continued to expand the original product line to include a wide variety of handheld, portable lighting products that feature HID and LED light sources, lithium ion batteries and sealed lead acid batteries, and a wide variety of grips and mounts.
"It appears that this will be a classic David versus Goliath battle," said Rob Bresnahan of Larson Electronics' Magnalight.com. "However, the facts are that Magnalight handheld portable lighting products have been sold under the Magnalight name throughout the USA and Canada as far back as 1968, and we are in the process of gathering the evidence to prove it. Larson Electronics manufactured and sold Magnalight handheld, portable lights FIRST, and despite Mag Instruments' founder Tony Maglica's threat to spend millions of dollars to alter reality, all of the money in the world won't change that fact."