The Security and Sustainability Forum Announces a New Webinar Series about the Challenges and Opportunities of Rapid Urbanization on a Finite Planet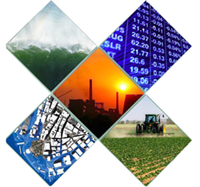 The Security and Sustainability Forum's free June 26 webinar will be the first in the Urbanization in a Growing World Series. The introductory session will highlight current urbanization projects and research initiatives regarding the effects of climate change on cities from SSF's Urbanization series partners: Abt Associates, the Penn Institute for Urban Research, the World Bank, the Woodrow Wilson Center, and the International Housing Coalition.
Washington DC (PRWEB) June 12, 2012
The Security and Sustainability Forum announces its free June 26th webinar "Urbanization and Growth on a Finite Planet," which will introduce a host of challenges faced by cities in light of climate change. The first session in SSF's Urbanization in a Growing World series will feature partner organizations' current urbanization projects and present overarching research questions on the effects of climate change that are of particular concern to cities. SSF's Urbanization series partners include:

The Penn Institute for Urban Research (Penn IUR) is a university-wide entity dedicated to an increased understanding of cities through cross-disciplinary research, instruction, and civic engagement.
The World Bank is a vital source of financial and technical assistance to developing countries around the world for the alleviation of poverty through projects such as education, health, infrastructure, communications, and government reform.
The International Housing Coalition's (IHC) strategy effects policy and programmatic change in foreign assistance through advocacy and engagement in housing and urban development applied research, information sharing, and policy advice in selected countries.
The Woodrow Wilson Center is a nonpartisan global public policy institution that commemorates the ideals of President Wilson by providing a link between the worlds of ideas and public policy to address current and future domestic and global challenges and supporting policy-relevant research and civil dialogue to enhance the knowledge of leaders, citizens and institutions worldwide.
Abt Associates is a mission-driven, global leader in research and program implementation in the fields of health, social and environmental policy, and international development
The webinar is on Tuesday June 26th, from 1:15 PM to 2:45 PM EDT. Register for free.
Jay Knott, Abt Associate's executive vice president for Global Business, and a former USAID Mission Director will lead a panel of experts representing SSF's urbanization series partners. Attend the webinar to learn about the unprecedented challenges and opportunities presented by rapid, worldwide urbanization trends, and current work and research in the field of urbanization relating to food security, infrastructure, economic development, and governance.
About the Security and Sustainability Forum
SSF is a public interest, membership organization that hosts free, live educational webinars. Sessions feature panels of global experts who address human health and welfare impacts caused by climate change and other environmental disruptions. The webinars outline how sustainable approaches to minimize environmental stresses can reduce instability and conflicts, thereby improving the security of humankind. Our programs seek to not only educate our audience about sustainability and how it fits into their areas of interest and work, but also spark new ideas about resilient approaches and solutions.
Access to SSF's webinar archive is offered through a free membership program.
For the original version on PRWeb visit: http://www.prweb.com/releases/prweb2012/6/prweb9594038.htm