Electronics and spa services overtake ties as favorite Father's Day gifts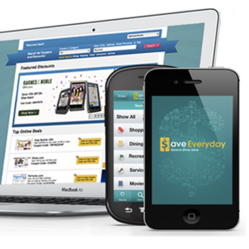 Surprising gifts for Dad this year include boys' getaways, electronics and spa services, according to nation's favorite savings club SaveEveryday.com.
Las Vegas, NV (PRWEB) June 13, 2012
Father's Day is quickly approaching, and dads this year can look forward to something more than just ties or golf clubs. With the influx of online coupon options, people are turning towards spa packages and vacations over traditional gifts.
SaveEveryday.com, the nation's favorite savings club, polled their members to find out what gifts they will be giving Dad.
The top five most popular gifts for dads this year are:
1. Electronics
2. Getaway packages (Boys' weekends, fishing trips, etc)
3. Gift cards
4. Spa/salon services
5. Clothing
According to Nissa Rhodes, SaveEverday.com's Director of Savings, "Electronics are a hot item right now, with tablets and the latest games topping the list. The vacation packages are a great idea as it gives Dad a chance to get away and bond with his buddies.
"The biggest surprise on the list this year was the popularity of salon and spa services. Dads like to be pampered too, with massage, haircuts and pedicures (no polish!), and a lot of salons and spas feature services that cater strictly to men."
Nissa continues, "With a SED membership, you can use it to save on your purchases, and include the membership as part of the gift so Dad can save all year. The whole family can even share the membership and take it everywhere they go with the smartphone app."
SaveEveryday.com scours the country in search of only the most desired deals on purchases at restaurants, retailers, attractions, golf courses and more! Members enjoy 2-FOR-1 coupons and up to 90% off at over 250,000 locations across North America. The SaveEveryday.com (SED) Membership helps hard-working Americans save money on the products and services they purchase every day while also serving as a much-needed fundraising vehicle for schools, local charities and other community organizations. SaveEveryday.com is taking the extreme out of couponing and making it fun and easy for everyone!
For the original version on PRWeb visit: http://www.prweb.com/releases/prweb2012/6/prweb9595806.htm