Value of Direct-To-Consumer Wine Shipping Increases by 11.5%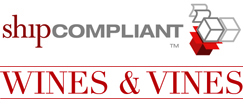 ShipCompliant and Wines & Vines Study Reveals Key Details About Direct To Consumer Wine Shipping Marketplace. Volume and Value of Winery-To-Consumer Wine Shipments Both Increase Significantly For 12-Month Period Ending April 2012.
Napa, CA (PRWEB) June 14, 2012
Winery-to-consumer direct shipments of wine showed significant growth over the 12-month period ending April 2012, according to data tracked by ShipCompliant and Wines & Vines magazine. For this latest 12-month period, 9-liter case sales were up 8.2% while the value of the more than 2.98 million cases shipped by wineries increased 11.5%. The two companies' joint data model now measures the total value of the winery-to-consumer direct shipping marketplace at over $1.34 billion annually.
Consumer direct shipments of wine covering May 2011 to April 2012 from wineries across the country of all sizes increased in volume, with the exception of the 1,000 – 5,000 case production wineries, which experienced a 3.8% decrease in cases shipped while their average bottle price increased 15% over the previous 12-month period.
California wineries remained the dominant player in direct-to-consumer shipped wines, accounting for 84% of all wine shipped during the 12-month period, according to the ShipCompliant/Wines & Vines model. Napa Valley wineries were the source for half of the value of all wines shipped, despite accounting for only 34% of the total cases shipped. The average bottle price of a wine shipped from Napa Valley was $55.31, while the overall average price per-bottle was $37.69.
The model also showed that Cabernet Sauvignon, Pinot Noir and Chardonnay together dominate the winery-to-consumer shipping market, accounting for 58% of all specified varietals shipped. As for where these wines are being shipped, only three states—California, Texas, and New York—account for nearly 50% of all wines shipped to consumers from wineries.
Key Findings:

Volume of direct shipped wines up 8.2%
Dollar value of direct shipped wines up 11.5%
Average price per bottle increases $1.11 to $37.69
$30+ wines see greatest increase in volume shipped
Larger wineries (above 50,000 cases annually) see greatest increase in shipments
Cabernet Sauvignon, Chardonnay and Pinot Noir account for 58% of specified varietals shipped
California, Texas and New York destination of 48% of all shipped wines
The ShipCompliant/Wines & Vines model takes into account millions of transactions recorded for the May 2011 to April 2012 period. Anonymized data for the transactions processed through ShipCompliant annually is projected across all wineries using Wines & Vines authoritative database of wineries and multiple stratifications. This assures that the statistical projections are representative of all wineries by winery size, location and bottle price level.
The latest numbers from ShipCompliant/Wines & Vines Report were unveiled at the Annual ShipCompliant DIRECT Conference in Napa, California today. A presentation based on the data can be downloaded at http://www.shipcompliant.com/events The Full report will be released in July.
For the original version on PRWeb visit: http://www.prweb.com/releases/prweb2012/6/prweb9603413.htm