Chatwing Introduces Reliable and Advanced Blog Chat Box for Wordpress Bloggers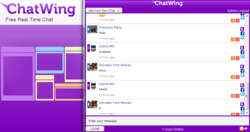 Chatwing is now available for a lot of bloggers in the Wordpress community. This blog chat box is known for its excellence in delivering communication. Apart from that, Chatwing is also free and can be used easily.
Cambridge, MA (PRWEB) June 20, 2012
The Chatwing web chat tool is now gathering considerable amounts of signups per day in the Wordpress community. This fact is based on the collective date researched by the Chatwing development team. One of the strong factors attributing to Chatwing's rank is the chat tool's adaptability. The Chatwing chat application can be installed to most blogs and websites specializing in different online topics. Many bloggers have also used the Chatwing chat widget to increase the visibility of their blogs and obtain a foothold in the blogging industry.
Since Wordpress is considered as one of the most famous free hosting blog sites, the Chatwing dev team has realized that it is a nice community to expand to. Other than that, the team believes that there are hundreds and thousands of Wordpress users who are not getting the true visibility that they need. The Chatwing chat box can bring enough hits to a blog due to user interaction. If users can communicate efficiently with each other, they will keep coming back, thus improving the rank of the blog or website. Adding to that, the Chatwing team introduces a Facebook integration feature. Through this, guests and visitors can now log in with their Facebook accounts.
Months ago, the Chatwing team worked hard to release many backend upgrades and developments. This is to ensure that people will get 100% efficiency when it comes to communication. Additionally, the team has also introduced the shoutbox to forum sites wherein they managed to heighten their reach exponentially. The team has noted that communities such as gaming, technology, blogging tips, finance, research, current events, and humor have benefited a lot from Chatwing's tool. Bloggers have also commented on Chatwing's easy installation mechanism and high rate of customization.
Despite the competition presented by other chatrooms, the Chatwing chatrooms team will continue to introduce the new version of their chat tool to different communities. In this way, the team will be helping a lot of people in terms of communication. Chatwing will also undergo numerous developments in the months to come.
About Chatwing.com
Chatwing.com has developed live chat software for websites and blogs. It caters to different online communities due to its high rate of connectivity. Everyone can create a customizable live chat box feature in 1 minute or less. Users have the ability to customize the size, color, and fonts of the chat product. The ability to chat via social media accounts such as Facebook and Twitter enable Chatwing to offer a personal and unique real-time experience to all sites. Chatwing is 100% free and very easy to use.
For the original version on PRWeb visit: http://www.prweb.com/releases/prweb2012/6/prweb9622704.htm