Online Dating Leader Cupid Sees Members Increase Six-Fold During First Half of 2012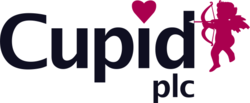 Successful execution of niche-focused strategy, coupled with viral success on social media, fuels massive uptick in U.S. visitors, which now surpass 24 million unique visitors each month. Cupid also shows impressive growth in global revenues, which now surpass US$9 million per month.
Palo Alto, CA (PRWEB) June 20, 2012
Cupid plc [LSE AIM: CUP], one of the world's most popular and fastest-growing dating communities, is experiencing a dramatic uptick in its popularity as singles worldwide flock to its successful array of traditional, casual and niche dating communities. Cupid's primary online dating communities, Cupid.com, BeNaughty.com and Flirt.com, now attract an average of 100 million unique visitors per month, compared to around 15 million unique visitors in the same period last year.
Cupid's growth in the US market has also been impressive. In 2010, Cupid plc purchased U.S. entity Cupid Inc. from OnTargetJobs, and assumed the brand name for its primary online dating service and to fuel its drive into the United States. Since then, Cupid has built U.S. traffic to around 24 million unique visitors per month. Cupid is also demonstrating a knack for converting its initial users into paid subscribers, with monthly global revenues tracking at $9 million.
"Because we offer a wide variety of dating sites, each optimized for and catering to specific demographics, we are able to migrate our free members to a paid service that connects them with highly compatible potential partners," said Bill Dobbie, CEO of Cupid.com. "For example, a member's initial contact with Cupid might be through Cupid.com or BeNaughty.com, but then that person might decide to become a paid subscriber on DatingForParents.com or PlanetSappho.com."
Cupid's social media engagement is on the rise
A key differentiator of Cupid compared with other online dating services has been its early adoption of a multi-platform approach, which enables Cupid to capture new members via an assortment of channels and devices. Cupid was one of the first major online dating brands to expand its presence across popular mobile devices, with native apps for iPhone, Android and other devices. Cupid was also a first-mover into social media, launching all its brands as Facebook apps over the period from January 2010 to June 2012. Cupid now has more than one million fans on Facebook, and engages with singles across 12 different Facebook pages, including its most popular brands Cupid.com, Flirt.com, BeNaughty.com and GirlsDateForFree.com.
"We aim to give our members access to their favorite dating site from whichever device or platform works for them so they can keep an eye on their membership wherever they are, and whatever they are doing," said Dobbie. "Online dating is one service that can really take advantage of location-based services — we know that some of our members love the fact that they can be at a café, updating their Facebook status, and be contacted by another member sitting nearby who is using the mobile app."
2012 milestones
The first half of 2012 has seen Cupid attain some major milestones that are indicative of its fast-track popularity with singles.
■ Surpassing 100 million unique visitors in February.
■ Successful debut of pilot TV ad campaign in Ireland.
■ Cupid wins "Best Travel & Leisure" category at the UK Stock Market Awards 2012.
■ Launch of Cupid.com HD iPad app.
ABOUT CUPID PLC
Since its formation in 2005, Cupid has established itself as the global leader in online dating, with a base of more than 54 million members in 58 countries, and revenues of £53 million in 2011. Cupid plc was listed on AIM in June 2010 (LSE AIM:CUP). The company offers a wide variety of online dating services (traditional dating, casual dating, and niche dating) that appeal to dating users of diverse ages, cultures, and social interest groups. Visit Cupid on the Web at http://www.cupidplc.com, and follow us on facebook.com/cupidfanpage and Twitter@cupidplc.