"Search, Social & Mobile - What Travel Marketers Must Know" - Live Webcast June 26 Helps Travel Marketers Navigate Social and Mobile Trends in Consumer Searching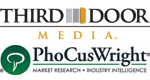 Third Door Media and PhoCusWright present a live webcast, June 26 at 1 PM EDT. Carroll Rheem of PhoCusWright will share new data on trends in consumer travel search, while Elisabeth Osmeloski of Search Engine Land will provide hands-on tactics in social and mobile travel marketing that are key to every travel marketer's success
Redding, CT (PRWEB) June 20, 2012
On Tuesday, June 26 at 1 PM EDT, Third Door Media and PhoCusWright present "Search, Social & Mobile - What Travel Marketers Must Know," a free webcast featuring Carroll Rheem of PhCusWright and Elisabeth Osmeloski of Search Engine Land.
Registration is open at Third Door Media's Resource Center, Digital Marketing Depot.
The world of search is constantly evolving in every market place -- and travel is no exception. Understanding the intricacies of search and planning for the future is a necessity for success in today's online travel world.
In this live webcast, Carroll Rheem, Senior Director of Research at PhoCusWright will present new consumer search data illustrating the current social and mobile trends in travel search. Elisabeth Osmeloski, Executive Features Editor at Search Engine Land, will show some of the tactics in social and mobile that are key for the travel search marketer's success.
The webcast is aimed at travel marketers and will include topics such as how consumers are searching for travel information today, in light of the rapid growth of social media and mobile devices; what travel marketers need to know in order to succeed in today's online environment; and how to exploit social and mobile to improve search marketing success in the travel industry.
"Search, Social & Mobile" is free and will last approximately 50 minutes.
About Third Door Media:
Third Door Media's mission is to empower internet and search marketing professionals by providing trusted content and community services they need to be successful.
The company produces the global Search Marketing Expo conference series. SMX conferences include: SMX West (San Jose, CA), SMX East (New York City), SMX Advanced, SMX London, SMX Israel, SMX Munich, SMX Toronto, SMX Sydney, SMX Melbourne, SMX Paris, SMX Stockholm and SMX Social Media Marketing (Las Vegas, NV, Dec. 5-6, 2012).
Third Door Media publishes Search Engine Land and Marketing Land, which provide news, analysis and tutorials to help internet marketers do their jobs more effectively. The company also provides a full range of digital marketing white papers, E-Books, webcasts and research at its Digital Marketing Depot resource center.
Third Door Media was recognized in 2011 by Inc. Magazine as one of the fastest growing 5000 private companies in America.
About PhoCusWright:
PhoCusWright is the travel industry research authority on how travelers, suppliers and intermediaries connect. Independent, rigorous and unbiased, PhoCusWright fosters smart strategic planning, tactical decision-making and organizational effectiveness.
PhoCusWright delivers qualitative and quantitative research on the evolving dynamics that influence travel, tourism and hospitality distribution. Our marketplace intelligence is the industry standard for segmentation, sizing, forecasting, trends, analysis and consumer travel planning behavior. Every day around the world, senior executives, marketers, strategists and research professionals from all segments of the industry value chain use PhoCusWright research for competitive advantage.
PhoCusWright enables clients to bolster productivity through superior staff training and education. Scalable products, customized programs and cost-effective delivery improve the performance of thousands of travel, tourism and hospitality employees worldwide.
To complement its primary research and learning solutions in North and Latin America, Europe and Asia, PhoCusWright produces several high-profile conferences in the United States and Germany, and partners with conferences in Canada, China and Singapore. Industry leaders and company analysts bring this intelligence to life by debating issues, sharing ideas and defining the ever-evolving reality of travel commerce.