Skoolbo – World's Largest Educational Game Launches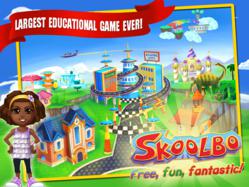 Skoolbo Core Skills is launching at the International Society for Technology in Education meeting next week. Skoolbo Core Skills, a literacy and numeracy program for 4 - 10 year olds, combines fantastic 3D worlds and amazing fun in multi-platforms and best of all – it's FREE!
San Diego, CA (PRWEB) June 20, 2012
Skoolbo Core Skills, the world's largest educational game ever, is now available. Skoolbo is a multiplatform literacy and numeracy program designed to help 4 to 10 year-olds learn to read and gain confidence with numbers. The multiplayer games incorporate beautifully designed 3D worlds, individualized avatars and a highly effective rewards system. Teachers and parents receive comprehensive, individually customized reports detailing not only strengths and weaknesses, but also suggested activities for student improvement.
Skoolbo believes the most important element of successful eLearning is fun. "Our goal is to hook the children on their learning. We know that if children love what they are doing then tremendous learning outcomes will be achieved," Skoolbo CEO and Founder, Shane Hill said recently.
The Skoolbo Spiral Learning Algorithm ensures every student is always receiving the right level of difficulty with the appropriate balance of new and revision content. The system continues to assess the child's performance and adapts its game content to match the child's learning method and current achievements.
Skoolbo is available in iTunes for iPads or from the Skoolbo website for PC and Mac. The Android version will be available shortly. We asked Shane Hill to tell us more about Skoolbo's multiplatform ability. He said, "One of the things we are most pleased with is the fact that a child can use their Skoolbo account on any device and will always see their most up to date information. This is possible because any device will sync with the child's account when they log on."
Skoolbo is completely free for all children and teachers. Parents can choose between a free account as well as an inexpensive premium version with additional reports and features. Shane shared his ethos behind choosing this business model, "We are absolutely delighted to be able to use a business model that allows every child to gain access to world leading educational resources regardless of their economic circumstances." And, unlike many of the learning apps available today, there is absolutely no advertising on Skoolbo.
Skoolbo also announced today that their Chinese version will be available in late July covering both literacy and numeracy in Mandarin. Later in 2012 Skoolbo will be release their English learning program. We asked Shane about it, "For many people around the world learning English is the single most advantageous skill in terms of job opportunities. It is an enabler that can lift people out of poverty and give them real choices." he said.
The official global launch of Skoolbo is at the ISTE Conference in San Diego, USA, on 24 June 2012.
About Skoolbo:
Skoolbo believes that technology can drastically improve learning outcomes for children by recognising and harnessing the way children learn. Skoolbo's e-learning programs focus on improving foundation reading and numeracy skills. The 3D racing games combine state-of-the-art technology and potent learning puzzles with the most important element of e-learning – fun! This is the underlying principle in all of the Skoolbo apps. Skoolbo provides the central elements of all of their apps for free with additional premium options available for purchase at extremely reasonable rates.
Skoolbo has been created by a team of educators and developers spanning the globe. Skoolbo headquarters are in Singapore.
About Shane Hill, Founder and CEO of Skoolbo:
Shane is a global pioneer in e-Learning development. During the last decade he founded Mathletics, Spellodrome and World Math Day, which for the previous five years, have been collectively the most used e-Learning websites in the world. Millions of children use these programs and to date, they have correctly answered more than 14 billion questions. Shane is now leading the global Skoolbo team from his base of operations in Singapore.
For the original version on PRWeb visit: http://www.prweb.com/releases/prwebeducation/skoolbo/prweb9626205.htm