What Does 1-800 Flowers, Fiat, and Best Western Know That JC Penney Does Not?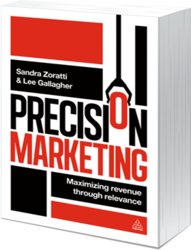 New Precision Marketing Book Highlights Brands That Deliver ROI
Denver, Colorado (PRWEB) June 20, 2012
Global business expert, former fortune 50 executive and predictive analytics evangelist, Lee Gallagher is releasing on June 28th the follow-up to "Advice From Top" in which he was a contributing author. In "Precision Marketing: Maximizing Revenue Through Relevance" Gallagher challenges marketing archers to hit the mark by leveraging predictive analytics to precisely target consumers with relevant marketing and messaging.
Gallagher explains, "JC Penney's blunt decision to simplify it's pricing strategy by eliminating sales and coupons in exchange for everyday low pricing with bi-monthly clearances were anything but 'simple' and completely missed the mark." Further, he states, "The Know ME or NO ME 2012 savvy yet deal-hunting shopper fled the brand, and voted on the 'Fair and Square' pricing strategy with their dollars, resulting in a first quarter loss of $55 Million."
Denver author, Gallagher, has skillfully written a precision marketing almanac that guides marketers, step by step, on how to level the playing field and stay ahead of the game in this hyper-competitive era by leveraging data to drive actionable marketing insights. The Precision Marketing Framework is designed to deliver marketing strategies and campaigns that hit the revenue bullseye while increasing loyalty and brand advocacy.
Companies That Deliver By Leveraging Actionable Insights:
"Precision Marketing: Maximizing Revenue Through Relevance" features over 44 case studies from brand icons such as Amazon, Fiat, 1-800 Flowers, Caesar's Entertainment, 7 Eleven, and Best Western that have consistently hit the mark by leveraging data to tailor and target communications; further enabling marketers to significantly improve consumer reaction and response to marketing campaigns and relationship building programs.
"Precision Marketing: Maximizing Revenue Through Relevance" (ISBN: 978-0-7494-6535-3) releases on June 28th, 2012, and is available now for presale on Amazon.com
About Lee:
Lee Gallagher resides in Denver where he actively blogs, conducts research, and writes articles on how to deliver revenue through relevance by the implementation of The Precision Marketing Framework to deliver irrefutable ROI back to the business. Most recently his work has been discussed in Fortune, Wall Street Journal, PBS, Business Week, and MSNBC. He is also an active member of the CMO Council and a board member on the Customer Experience Council.
Gallagher's integrated marketing approach cuts through the cacophony of marketing messaging to deliver rock solid ROI. His efforts have placed him as a leader in strategy for some of the world's most highly respected brands.
You can reach him at http://www.relevancyrequirement.com or http://www.leegallagher.com.
For the original version on PRWeb visit: http://www.prweb.com/releases/prweb2012/6/prweb9625925.htm