InfiniteSkills | Learning jQuery Mobile Tutorial | Master Dynamic Mobile Platform Development from an Expert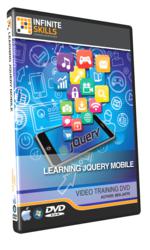 The four-hour, 72-lesson course provides a solid foundation for beginning mobile web development.
(PRWEB) June 21, 2012
Software training creator InfiniteSkills, Inc. last week released its Learning jQuery Mobile Tutorial, an introduction to the latest version of the jQuery mobile platform. The instructional video course offers a fast yet comprehensive introduction to mobile web development with the popular JQuery framework, making it possible for new users to begin creating their own mobile browsers in a matter of hours.
jQuery Mobile is a mobile interface framework based on HTML5 built for compatibility with all the major mobile platforms. It includes built-in themes and interacts with web frameworks of HTML, CSS, and Javascript.
"jQuery Mobile is built on the jQuery core," explains course author Ben Jaffe, "which provides a wide range of possible functions but also keeps the basic program compact and simple. jQuery is the perfect application to use to get up and running quickly in mobile web development, and the InfiniteSkills Learning jQuery Mobile Tutorial is the perfect tool for putting the framework to use quickly and effectively."
http://www.infiniteskills.com/training/learning-jquery-mobile.html | [Learning jQuery Mobile Training - Tutorial __title__ ]
Jaffe is a freelance front-end web developer and instructor in the San Francisco Bay area. He has several years of experience in developing, teaching, and consulting in the web development area.
The Learning jQuery Mobile Tutorial unlocks the possibilities of mobile web applications. Jaffe covers all the basic tools for using jQuery including how to create and align buttons, manage toolbars, incorporate web content, as well as how to build lists and forms.
Free demo videos and a full list of course contents can be found on the Learning jQuery Mobile training page of the InfiniteSkills website:
http://www.infiniteskills.com/training/learning-jquery-mobile.html
InfiniteSkills offers its Learning jQuery Training Video either as a DVD or a direct download from the company website at a retail price of $99.95. All InfiniteSkills titles and formats are compatible with Mac and Windows operating systems, and shipping is available around the globe. Additionally, InfiniteSkills tutorials are supported by project files which correspond to examples in the videos.
About InfiniteSkills Inc.
A leader in the field of software training, InfiniteSkills strives to offer the highest quality training available at an affordable cost. InfiniteSkills tutorials are task-oriented instructional videos, teaching complex skills by providing hands-on examples and guiding users as they carry out critical objectives. InfiniteSkills offers a comprehensive range of software titles available as DVDs, digital downloads, and in iPad editions, keeping with company aim of delivering professional training to customers anywhere they want to learn.
For the original version on PRWeb visit: http://www.prweb.com/releases/prweb2012/6/prweb9621980.htm