LinkedIn Gets Video Calling powered by Hookflash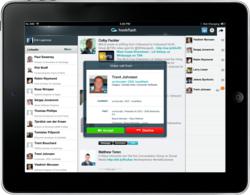 Business Communications reinvented with Hookflash for iPad
Palo Alto, CA, Calgary, AB (PRWEB) June 22, 2012
Hookflash™ today announces it's inaugural mobile application, Hookflash for iPad® now available in the Apple App store.
Social, mobile and free - Hookflash uniquely combines the rich audio, video and display capabilities of Apple's iPad with LinkedIn's social context and business directory of over 160 million professionals to provide innovative advancement in business communications on an enhanced global network. At the tap of a contact Hookflash connects LinkedIn users with instant High Definition video calls, voice and messaging between iPads anywhere on the planet for free.
Hookflash for iPad - iTunes App Store Download Link
"We essentially turn the iPad into the world's best business phone with a directory of over a 160 million professionals on a free global digital network. "This changes everything" has to be my favorite customer reaction to Hookflash so far", explains chief executive Trent Johnsen, co-founder at Hookflash.
Hookflash is first to integrate real-time communications with business social media and directory creating entirely new, valuable functionality for business professionals from individual prosumers to large enterprise.
With unique patent-pending features such as "social caller ID", Hookflash uses LinkedIn profile and activity feed information for each contact to provide features including identity assertion and social context so you know who you're talking to and what they've been doing. With Hookflash there is no need to build and maintain a list of contacts. When you log in to Hookflash with your LinkedIn credentials, your information is always synced automatically with the world's largest, fastest growing business directory straight from the cloud.
The Hookflash development team is led by co-founder Erik Lagerway and Chief Architect Robin Raymond leveraging over a decade of deep experience and insight as world leading softphone, SIP, IP communication developers to create an entirely new specification and protocol to advance communications in the 21st century.
Hookflash is designing and building real-time communications and complementary functionality on a new Peer-to-Peer (P2P) protocol - "Open Peer". The company is exploring early development with a variety of partners to integrate Open Peer real-time communication and media functionality. By way of example, Open Peer can be directly integrated to existing applications such as Enterprise Resource Planning (ERP), Customer Relationship Management (CRM) or network and mobile operating systems to provide real-time HD video, voice, messaging and complementary media sharing without the need for, or associated expense of traditional telecom infrastructure or network server infrastructure.
Press Contact:
Trent Johnsen
Hookflash
(403) 615-6898
trent(at)hookflash(dot)com
hookflash.com/press
"work, life, simplified" Hookflash is designing the future of social, mobile, business communications using "Open Peer" to integrate voice, video, and messaging with the world's leading computing devices, social networks and software. Apple, iPad, LinkedIn, App Store, are trademarks of Apple and LinkedIn. Other company and product names may be trademarks of their respective owners.
For the original version on PRWeb visit: http://www.prweb.com/releases/prwebhookflash/iPad/prweb9626926.htm