JumpTime Receives Patent for Determining Real-Time Revenue and Explicit Dollar Value of Online Content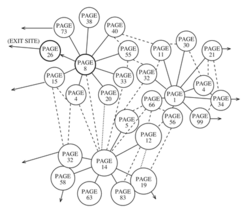 Patent's Applications Enable Publishers to Maximize Revenue, Engagement and ROI from Their Content Investments
Los Angeles, CA (PRWEB) June 25, 2012
JumpTime, Inc., a technology company that optimizes ROI on digital content investments, today announced their first patent for determining the real-time economic value of digital content assets in a network.
JumpTime's patent, "Method and system for determining overall content values for content elements in a web network and for optimizing internet traffic flow through the web network" (U.S. Patent No. 8,171,156), provides content owners new insights into the performance, management and optimization of their business. The patent applies proven economic theory to content optimization, and delivers mathematical proof of an approach that maximizes revenue and engagement for digital content networks.
Conceived of as a single, authoritative transaction metric or currency for content owners, JumpTime's new metric "FloPower," also referred to as Real-Page-Value (RPV), combines real-time engagement data with financial value inputs (advertising, subscriptions, brand value, etc). Just as in e-commerce where conversion values are well understood, content publishers now have a unifying value metric they can use to prioritize, promote, trade and market their digital assets to optimize the ROI on their transactions.
"Marketers and publishers are starting to understand that metrics like page views, time spent and now a cadre of emerging social metrics are proxies for financial performance. Our FloPower metric applies asset valuation techniques from the finance field directly to digital content. Optimizing online traffic flow on the basis of this metric can lead to dramatic increases in revenues earned from content investments," said JumpTime co-founder and CEO Michele DiLorenzo.
Filed in July 2009, the patent focuses on:

Value: In the past, online metrics have attached value to content without measuring the downstream or future value that this content drives. JumpTime's patent describes a method that includes the traffic patterns to determine financial value, with a particular focus on value created from downstream activity.
Page potential: The patent derives value from all of the data and possible content paths followed by a site's users. The focus is on the content (e.g. page/video), and the probability that this content will send traffic to another piece of content of value.
Big data: Use of a probabilistic approach allows JumpTime to calculate an infinite number of engagement paths at any moment in time.
Networked content: The patent looks at the network of nodes and hyperlinks across a site, and analyzes how each content asset (node) performs with respect to the rest of nodes in the network.
"JumpTime's patent is a great application of financial theory to Internet usage data," said Hanno Lustig, Associate Professor of Finance at the UCLA Anderson School of Management and Senior Advisor to JumpTime. "By using this mathematical modeling approach, sites will now have the rigorous real-time financial metrics to value their online real estate and make better investment decisions – which until now have eluded website owners."
JumpTime currently offers a suite of products based on its unique science, including 1) a decision-support tool for editors (Traffic Valuator), that provides editors with real-time information on the value of all the content available in a site, and 2) automated page programming (Traffic Optimizer) that optimizes traffic re-circulation to maximize economic value, providing publishers the power and control to deliver higher ROI for key site real estate.
Using JumpTime's tools, business development, marketing and advertising executives across an organization can now track the exact value of each referring link on their site, the value of their content by section, by type and even by traffic referral – a new line of sight that is helping them to create significant lifts in engagement and revenue.
JumpTime's patent was issued to CEO Michele DiLorenzo, CTO Andres Rodrigues, Chief Research Officer Anke Audenaert, and Senior Advisor Hanno Lustig. The patent is posted at http://www.jumptime.com/insights/patent-filing/ and a related white paper, "Asset-Valuation-Based Ranking: Bringing Economics to the Web" is available at http://www.jumptime.com/insights/asset-valuation-white-paper/.