PALS™ Built, Affordable Alternative to Assisted Living Facilities, Expands – Appoints Alison Rhodes President/CEO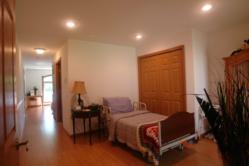 Company Designs Handicap Accesible Modular Home Additions for the Elderly and Disabled to Live With Family. Taps Into Aging-in-Place Demand With Affordable Alternative to Assisted Living Facilities
(PRWEB) June 26, 2012
Henry Racki, Founder of PALS™ Built, announced today plans for the national launch of the Connecticut-based company. The burgeoning demand for assisted living structures that are affordable alternatives to assisted living facilities for the elderly and disabled drove the expansion. When aging in place is no longer an option, PALS Built universal designed and handicap accessible modular home additions can be attached directly to a family member's home quickly and at the fraction of the cost of an assisted living facility.
Alison Rhodes, founder of Safety Mom Enterprises, has been appointed President/Chief Executive Officer. In addition to her work as a nationally-renowned family safety and wellness expert, she has two subsidiary companies, Safety Mom Solutions and Safety Mom Senior Solutions. Both companies specialize in safety proofing and home modification for children, seniors and the disabled. Her expertise dovetailed perfectly with the PALS Built offering.
"I'm thrilled to be joining a company that's offering a revolutionary solution to the growing concern of finding affordable and safe housing for older adults. As the caregiver for my parents, I'm one of the thousands of families dealing with the difficult decision of how to care for aging parents. The reality is that in this economy, assisted living is just not an option for many families. The stress associated with trying to care for aging parents is taking an emotional, physical and financial toll on many Americans. Multi-generational living is the wave of the future and PALS Built is at the forefront of this movement." explains Ms. Rhodes.
Ms. Rhodes will maintain her role at Safety Mom Enterprises but will be dedicate a significant portion of her time to building the franchise and developing strategic alliances with national caregiving organizations and other third-party partners such as in-home care providers. Prior to founding Safety Mom Enterprises, Ms. Rhodes was a Senior Vice President at Weber Shandwick, one of the world's largest public relations firms. During her tenure, she ran the US program for Kodak and played an integral role in business development for the agency. "Alison is an incredible talent. She brings years of leadership experience both as an entrepreneur and corporate executive. Her PR and marketing background coupled with her platform as a national safety expert will allow her to grow PALS Built into the category leader in affordable and safe living solutions for older adults and the disabled." commented Mr. Racki.
###
Practical Assisted Living Solutions, LLC is the manufacturer of PALS™ Built modular home additions that are universal designed and handicap accessible. The company provides cost effective alternatives to assisted living facilities and nursing homes, allowing families to stay together.
For the original version on PRWeb visit: http://www.prweb.com/releases/prwebPALSBuiltExpansion/MM/prweb9635065.htm