Kovels on Antiques and Collectibles July 2012 Newsletter Available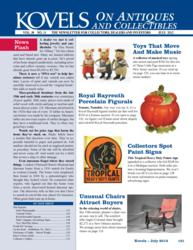 The July 2012 issue of "Kovels on Antiques and Collectibles" newsletter is now available. Highlights include auction reports with color photos, descriptions and prices of musical toys, antique phonographs and Royal Bayreuth porcelain.
Cleveland, OH (PRWEB) June 27, 2012
The July 2012 "Kovels on Antiques and Collectibles" newsletter is now available in print and online.
Terry Kovel reports on some valuable musical toys, instruments and glassware that made a splash at recent auctions.
A New Jersey auction sold various windup musician toys including a trio of string players that sold for $3,450, and an organ grinder brought $1,725.
Some early 20th-century phonographs also turned up at a spring auction in Pennsylvania, where a Victor tabletop record player with a wooden horn sold for $3,300. Colorful Royal Bayreuth jars, pitchers and teapots shaped like fruits, leaves, flowers, and people sold at a Kansas auction. Most went for prices between $100 and $500, but a few topped $500, including a standing trout water pitcher that brought $625.
In "Kovels on Antiques and Collectibles" July newsletter you can see photos, prices and descriptions of other vintage "talking machines" and mechanical musicians playing instruments from saxophones to pianos are included in Kovels' July newsletter.
Also in the issue, are priced examples of some unusual 19th century chairs with flair, vintage paint company advertising signs, and miniature works of art carved from peach pits. Terry Kovel also writes about her favorite finds at the Antique City Fun Fair, held on the Lehigh University campus in Bethlehem, Pa.
Regular monthly features such as the Dictionary of Marks (July features marks on furniture, drinkware and other items designed by Russel Wright), the popular illustrated Collector's Gallery with answers to readers' questions, and the Buyer's Price Guide of recent prices are also included.
With its mixture of expert advice and reports on what's hot in the market, Kovels' newsletter has something to offer both beginning and experienced collectors. "Kovels on Antiques and Collectibles" is available as a print subscription or as a digital downloadable version that is part of the Kovels.com Premium subscription.
Terry Kovel, well-known columnist and author, gives information and advice on collecting. She will discuss the content of this release or any other antiques and collectibles topics with accredited media. Photographs are available. Contact Contact pr(at)kovels(dot)com.
About Kovels.com
Terry Kovel has written 100 books about collecting, including the best-selling annual price book, "Kovels' Antiques and Collectibles Price Guide." The 2012 guide is in bookstores now. Terry publishes a subscription newsletter and writes a syndicated newspaper column that appears in more than 150 newspapers and digital publications. She and her late husband, Ralph, starred in the weekly HGTV program, "Flea Market Finds with the Kovels." The Kovels website, Kovels.com, now offers more than 800,000 free prices and other information for collectors, including books, special reports, a weekly emailed letter to collectors, marks and an archive of other informative material. The Kovel brand is run by Terry Kovel and her daughter, Kim Kovel.
Contact:
Liz Lillis
pr(at)kovels(dot)com
216-752-2252
For the original version on PRWeb visit: http://www.prweb.com/releases/prweb2012julyissue/kovelsonantiques/prweb9643519.htm