Kent architecture firm, jhd Architects inspire CAD design students in RIBA's Love Architecture Festival 2012 - Page 2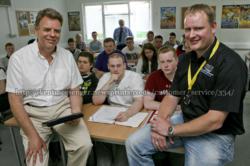 Tim Ball is a chartered member of the Royal Institute of British Architects (RIBA) and principal with jhd Architects, a RIBA Chartered architectural practice based in Sevenoaks and Benenden, Kent. jhd Architects specializes in contemporary architecture designed for private clients in Kent and Sussex using state-of-the-art 3D technology which allows them to 'walk around' their building before it is built. Examples of their unique designs can be found in their portfolio of Kent architectural projects. They are always happy to share their architectural expertise with young people preparing for a career in architecture and related trades.
The photos in this press release are courtesy of http://kentmessenger.newsprints.co.uk/customer_service/334/
jhd Architects
Cottenden, Stepneyford Lane, Benenden, Cranbrook, Kent
TN17 4BW, United Kingdom
+44 1580 243070
This press release was prepared by Bobrow Consulting Group (BCG) for jhd Architects. BCG works with building design professionals to build their business by optimizing their online strategy, teaching marketing for architecture firms as well as offering web design and SEO consulting services.
For the original version on PRWeb visit: http://www.prweb.com/releases/prwebkent-architect/community-projects/prweb9628467.htm