5 Tips to Prevent Exposure to Bed Bugs, 'Must Do' Guide for Summer Travelers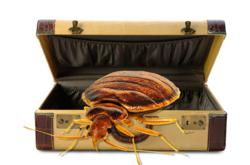 Bed Bugs are on the rise throughout the county. The Bed Bug professionals at Batzner Bed Bug Services offer five simple tips for summer time travelers to avoid bringing bed bugs back home.
(PRWEB) June 29, 2012
The spread of bed bug infestations has been a growing problem in recent years and summer travelers need to be on the lookout for these harmful pests. Bed bug avoidance can make a huge difference between a pleasant and unpleasant travel experience.
Bed bugs come out at night and feed on human blood, frequently causing an itchy swelling. While everyone sleeps, these blood sucking parasites can wreak havoc on an individual and family's health and well being.
Bed Bug Awareness is the key!
For prevention and avoidance, take the time to inspect your sleeping accommodations for the presence of bed bugs.
Follow these 5 Important Steps:
1. Bring a flashlight.
Bed Bugs are nocturnal creatures and active at night so it's a good idea to travel with a flashlight to check for Bed Bug activity. A small LED flashlight is sufficient
2. Inspect the room
Before you bring your belongings and luggage into the room, check the bed, bedding, pillows, furniture, walls, baseboards, crevices. Anything close to the bed is a potential nesting site.
3. What to Look For
Bed Bugs are relatively small (up to 1/4 inch in size) and reddish brown in color. The reddish brown color comes from the consumption of blood.
Signs of infestation may include:

Actual Bed Bug sightings.
Small dark spots on sheets and covers.
Dark spots in seams on mattresses, dust ruffles, bed frames or headboards.
If you see anything suspicious, request another room (not adjacent) and assurances from the ownership that the new room does not have bed bugs.
4. Luggage Placement
Never place your luggage or belongings on the bed, near the bed or floor. Use cabinets or tables off the floor and away from the bed area. If possible, use your vehicle for storage.
5. Returning from your trip.
Place all items in plastic bags to be opened and inspected before bringing in to the house and wash and dry all laundry using the highest temperature settings. (Bed Bugs cannot survive high heat.)
Bed Bug Control:
The United States is currently experiencing an alarming resurgence in the bed bug population. It is important to have the identification of bed bugs confirmed by a pest management professional. If it is bed bugs, you will need a thorough inspection to determine the extent of the infestation.
Controlling bed bugs requires a labor intensive program that targets all cracks and crevices in rooms that may be infested.
Call the experts at Batzner Bed Bug Services Inc. @ 800.878.2110
You'll be glad you did!
For the original version on PRWeb visit: http://www.prweb.com/releases/prwebBatznerBedBugServices/BedBugTravelTips/prweb9653044.htm