How to Increase YouTube Traffic with Surefire Methods Revealed in Special Report, Says Online Article from Digital Marketer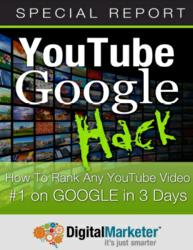 Find out how to increase YouTube traffic with awesome methods shared in the "YouTube Google Hack" Special Report, said a recent online article.
Austin, TX (PRWEB) June 30, 2012
Today's DigitalMarketer.com article said that when trying to learn how to increase YouTube traffic, people get confused once the "upload" button is clicked. What happens after that is a mystery. How are views boosted? What strategies work best within the parameters set by YouTube? The answers to these can be a bit of a puzzle, said the article.
Digital Marketer has published a Special Report to help businesses and personalities find out where to fit the pieces and complete the puzzle. "YouTube Google Hack: How to Rank Any YouTube Video Number One in Google in Three Days" boils everything down to a 15-minute read. The article said it will change the way video sharing is viewed by marketers.
Because of YouTube's unique relationship with Google (it just happens to be owned by the search engine king), having a high-ranking video produces a high-ranking search result. The article said that naturally transforms into increased online business because of the free YouTube traffic.
If marketers knew how easy it was to influence search rankings and spend a little extra funds on outside results-boosting services, the article said they'd have been taking advantage of these techniques for years.
Instead, marketers are just beginning to understand the capabilities of YouTube, and many are rushing to get set up with professional camera equipment and production systems. Digital Marketer's Special Report teaches how to create engaging videos with information about products or services. And amazingly, the article said businesses don't even need a camera to pull them off.
"YouTube Google Hack" will show marketers how to optimize their videos for higher listings inside Google search strings. And despite its clever name, the Special Report keeps everything within ethical reason, and includes nothing that would be considered shady or immoral.
At the same time, the online article said aggressive techniques are sometimes called for in today's fast-paced world of business competition. With everything going digital and archaic things like snail mail and Yellow Page ads disappearing, online is where the money is to be made.
Digital Marketer releases informational and educational materials to help businesses and entrepreneurs gain insight and information on the trends, data, and strategies that can take them to the top of their industry. Through their RAW Training courses, strategic plans, blogs, newsletters, site reviews, and Special Reports, Digital Marketer supercharges every single marketing campaign it touches. For more information, visit DigitalMarketer.com.
Above all else, Digital Marketer strives to keep businesses on the cutting edge of the latest trends and patterns. Since video content is dominating web traffic (it makes up more than half of all evening and nighttime browsing, according to "YouTube Google Hack"), businesses that wait to establish a YouTube presence will be punished.
To ensure that they're getting the best information, Digital Marketer wanted to make the Special Report available to the masses. The article said anyone will find out how to increase YouTube traffic with the best search ranking results possible with the "YouTube Google Hack" e-book.
For the original version on PRWeb visit: http://www.prweb.com/releases/prwebhow_to_increase/youtube_traffic/prweb9659184.htm