C2 Education Brings Successful Majors and Careers Workshop to San Francisco Area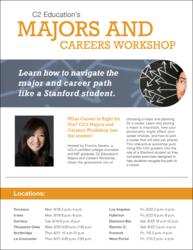 In the wake of its successful Majors and Careers Workshop series in Southern California, C2 Education will be bringing this wonderful educational opportunity to students and parents in the San Francisco area as well.
(PRWEB) July 02, 2012
During the month of June, C2 Education, the nation's fastest growing network of educational support centers, hosted a series of workshops in Southern California to help students and their parents learn about the importance of selecting a major in college and the various career paths available post-graduation. This incredibly helpful workshop series was attended by dozens of students and their parents, making this series C2 Education's most successful workshop event to date.
In the wake of this success, C2 Education will bring the Majors and Careers Workshop series to Northern California during the month of July. Students in the San Francisco area are invited to register for the upcoming Workshops, available on July 6 and July 13. Registration can be done by phone or online at http://www.c2educate.com. The $45 registration fee includes not only the workshop, but also a free C2 Education diagnostic test and consultation, a $95 value.
Hosted by Ms. Francis Kevers, an MIT graduate and UCLA certified college admissions advisor, the Majors and Careers workshop puts high school students in the shoes of Stanford college students. Participants utilize the same materials available through Stanford as they are guided through the process of analyzing interests and personality traits in order to find the perfect career path. Past workshop participants have had great things to say about the C2 Education Majors and Careers Workshop:
"I think it was a great opportunity for me to gain insight into what kind of person I am. High school students who aren't sure what kinds of careers would fit them should definitely come to this workshop!"
"Ms. Kevers' life story was so inspiring, and her workshop really helped us understand how our own interests and passions can connect with good careers."
"The materials and presenter were great! The worksheets were very insightful and accurate and the presenter was friendly and informative."
For more information or to register to attend the workshop, call C2 Education at (800) 777 - 7000 or register online.
For the original version on PRWeb visit: http://www.prweb.com/releases/prweb2012/7/prweb9660594.htm