CTEX, VCE, and Zuora Establish A Strategic Alliance Agreement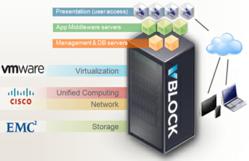 Companies establish a strategic alliance and agreement to bring advanced cloud computing services to the Caribbean and Latin America leveraging CTEX's Tier-IV designed data centers.
CURAÇAO and BOSTON, MA (PRWEB) July 05, 2012
Curaçao Technology Exchange (CTEX), in collaboration with VCE and Zuora, have established a strategic alliance. Targeted for September 2012, CTEX, which is building the region's most advanced Tier-IV designed data centers, will launch a unique portfolio of 'infrastructure as a service' (IAAS), 'backup as a service' (BAAS) and 'software as a service' (SAAS) offerings to the Caribbean and Latin America markets. HyperCloud_Express(sm) and HyperCloud_Enterprise(sm) will be the first advanced cloud computing offerings launched in the intended market. VCE's Vblock™ platform leverages best-in-class technology and integrates computing, network, storage, virtualization, and management components from trusted, industry-leading vendors (Cisco, EMC, and VMware) to deliver a world-class unified computing infrastructure. CTEX's HyperCloud(sm) services will be further powered by Zuora's subscription commerce platform to manage real-time billing and settlement of global transactions.
CTEX's cloud services will be offered through the company's unique Tier-IV designed data centers located in Curaçao. The data centers will be interconnected to the world through seven major submarine cable systems providing extensive redundant access for international customers. The services will enable companies to rapidly configure custom server instances in a secured cloud environment. Too, CTEX will offer customers the ability to subscribe to software services through an advanced multi-lingual Appstore. These services will be offered on an on-demand and subscription basis. Customers benefit by reducing up-front technology capital expenditures, while paying only for used capacity. They will also benefit from advanced security management, cloud-based backup and desktop virtualization services.
"Our cloud services benefit from the combined industry experience of CISCO, VMWARE and EMC. The unified platform provides us with the flexibility to rapidly support small and medium enterprise companies, as well as provide private cloud solutions for large corporations and governments. We want to provide customers with the most secure, scalable and manageable cloud solutions in the region in either a private, public or hybrid model. We also want to bring to market a unified computing infrastructure that removes the guess work associated with configuring a private customer data center. Customers will have the ability to build their private data center infrastructure within our highly secured facility by leveraging a pre-configured, tested and supported computing, networking and storage infrastructure so they can focus on running their core business. VCE provides CTEX with the necessary technology building blocks to accomplish this. Too, the VCE infrastructure provides us the ability to support 'Big Data' analytics by enabling large enterprises to dramatically scale up storage capacity to discover repeatable business patterns and gain a strategic advantage. Our solutions, which will be formally launched this September, will be a first in the region and will enable companies and institutions to rethink how they leverage technology to meet their business demands," says Anthony de Lima, CTEX's Chairman and CEO.
"With CTEX's HyperCloud(sm) services based on VCE technology, customers in the region will be able to leverage the same high level of cloud computing services available in North America and Europe," said Leon Taiman, VCE's Regional Vice President - Caribbean and Latin American Markets. He continued, "CTEX, with the help of VCE Professional Services, are working together to enable the rapid adoption of cloud computing by companies and government institutions and are helping them deploy advanced data center technologies and realize the maximum return on their technology investments."
"CTEX's HyperCloud(sm) services will be further powered by Zuora's subscription commerce platform. Zuora's platform enables CTEX to provide rapid subscription and provisioning services to its customers and maintain a dynamic pricing catalog to create any type of pricing plan, bundle, promotion or offer to drive new customer acquisition. Zuora's platform will also provide seamless and real-time credit card clearance facilities to enable rapid payment of subscription services," says Brian Bell, Chief Marketing Officer, Zuora.