America's Oldest Insurance Company Adds 21st Century Disaster Recovery Solution From Zerto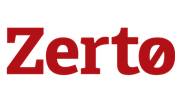 260-Year-Old Philadelphia Contributionship Adopts Hypervisor-Based Replication in Data Centers
BOSTON, MA -- (Marketwire) -- 07/16/12 -- Zerto, the industry's first hypervisor-based replication solution provider, today announced that the Philadelphia Contributionship has chosen Zerto Virtual Replication for disaster recovery to support the company's data center virtualization efforts. Established by Benjamin Franklin in 1752, the Philadelphia Contributionship is America's oldest insurance company, providing personalized home, fire, and flood insurance to over 400 insurance agencies across several Mid-Atlantic States including Pennsylvania, New Jersey and Delaware.
The Contributionship implemented Zerto Virtual Replication to protect essential servers and applications dedicated to the company's daily business functions, including accounting, document management and IT support systems as well as Microsoft SharePoint. The company began evaluating and upgrading their BC/DR capabilities following Hurricane Irene, when they realized that their existing strategies and solutions provided minimal protection against a major systems failure.
"Our old recovery and testing strategy was a complex ordeal at best, as it put intensive strains on our network and made it impossible to meet the recovery objectives our business demands," said Mark Montagna, IT Infrastructure Manager, Philadelphia Contributionship. "Zerto delivered comprehensive data and application protection without any updates or upgrades to our current network or storage infrastructure, simply and affordably."
Zerto offers a virtual-aware business continuity and disaster recovery (BC/DR) solution, which replicates data within the virtual infrastructure instead of in physical storage. By moving replication to the hypervisor, companies extend the benefits of virtualization, including flexibility, mobility and scalability to their disaster recovery solutions. Zerto's hypervisor-based replication combines the enterprise-class features of physical replication with the flexibility, ease-of-management and control, and scalability of virtual environments.
"We are proud to have been selected by the Philadelphia Contributionship as they modernize their data center," said Ziv Kedem, CEO of Zerto. "Zerto Virtual Replication provides insurance for business critical data and applications, offering enterprise-class data recovery and protection for today's virtualized environments."
About Zerto
Zerto provides enterprise-class business continuity and disaster recovery solutions for virtualized infrastructure and cloud. Zerto won a 2011 Product of the Year Gold award as well as Best of Show at VMworld 2011. Zerto Virtual Replication is the industry's first hypervisor-based replication solution for tier-one applications and replaces traditional array-based BC/DR solutions that were not built to deal with the virtual paradigm. For more information, please visit: www.zerto.com
Social Media Links:
Twitter: https://twitter.com/zertocorp
LinkedIn: http://www.linkedin.com/company/zerto
Facebook: https://www.facebook.com/ZertoCorp
Mark Prindle
Fusion Public Relations
(212) 651-4223
mark.prindle@fusionpr.com


Copyright (2012) Marketwire.
All Rights Reserved.