International College Counselors Recommend the Virtual College Tour – Inspirational, Motivational and Free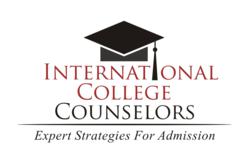 Mandee Heller Adler and expert college advisors at International College Counselors summarize the benefits of going on virtual college tours for high school students. These high-tech visits allow a student to get a good sense of the school while saving time and money. The New York and Miami college advisors at International College Counselors have helped hundreds of students get into the college of their dreams.
Miami, Florida (PRWEB) July 18, 2012
According to the Los Angeles Times (7/7/2012), students are applying to more colleges. However, its not always practical to visit every college, said college advisors at International College Counselors. Many students and their families also agree.
Across the U.S. thousands of students are visiting colleges without leaving home. From a personal computer students can explore hundreds of colleges, getting a 360-degree view of the campus and more. Expert college advisors at International College Counselors highly recommend these "trips" for students. Virtual tours are informative, free, and they'll whet a high schoolers imagination for the freedom to come.
"Virtual college tours can be highly motivational. When students have a chance to "stroll" around a campus, the dream becomes more real. The discussion can then turn to grades and what is needed for a student to actually attend," said Mandee Heller Adler, founder of International College Counselors.
Locations to be visited include lecture halls, gyms and dormitories. Videos may also include student interviews and perspectives on activities like sports, clubs and Greek life. Other tours include information like nearby places to hike, local things to do, and historical features. Sweet Briar College includes places on campus where ghosts have supposedly been seen.
Many families take road trips. But with students applying to more schools, visiting all the schools can be a challenge. Virtual college tours are also a great opportunity for international students to see what a variety of schools looks like.
"What virtual tours do well is give a student the sense of a college and help narrow down the search. They can help save a family time and money," said South Florida based college counselor Mandee Heller Adler.
But, they're not a replacement for actual visits, explained Adler.
College advisors at International College Counselors recommend that students visit their top schools once they've narrowed down their list. During an in-person college visit, students can sit in on actual classes and speak with current students to ask questions.
This year, college advisors at International College Counselors helped more than 200 students find, apply to and gain acceptance into the college of their dreams. The expert college counselors at International College Counselors are dedicated to helping students and their families successfully navigate the college application process.
For more information on International College Counselors or to contact an expert college counselor, please visit http://www.internationalcollegecounselors.com
ABOUT INTERNATIONAL COLLEGE COUNSELORS:
International College Counselors provides expert college counseling on undergraduate and graduate college admissions, financial aid, tuition, essays, and college applications to domestic and international students. The college counseling and college coaching services are tailored to address the goals, needs, and dreams of each student. Mandee Heller Adler, founder of International College Counselors, is a graduate of the Wharton School at the University of Pennsylvania. She also received an MBA from Harvard Business School. Ms. Adler's achievements have brought her recognition as one of South Florida Top 100 Small Businesses in 2010.
International College Counselors has offices in White Plains, New York; Boston, Massachusetts; Miami Beach, Florida; Miami, Florida; Coral Gables, Florida; Palm Beach, Florida; Boca Raton, Florida; Medellin, Columbia and Caracas, Venezuela.