littleBits Closes Series A and Partners with PCH International to Spark New Generation of Inventors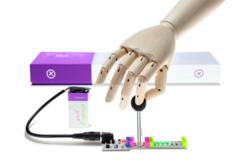 Open source hardware company raises $3.65 million in round led by True Ventures and announces partnership with global supply chain management company.
(PRWEB) July 18, 2012
Electronic building blocks company littleBits today announced a $3.65 million Series A round led by True Ventures and including Khosla Ventures, O'Reilly AlphaTech Ventures and Lerer Ventures. The company also announced a major partnership with leading supply chain management company PCH International, which will begin producing littleBits in August.
littleBits is a system of electronic modules that snap together with magnets for both prototyping and play. Each "bit" has a simple, unique function (light, sound, sensors, buttons, thresholds, pulse, motors, etc.), and modules that snap together to make larger circuits. littleBits enables anyone to create interactive electronics projects—like racecars, dragons and interactive greeting cards—without any background in engineering, programming or wiring. With the company's flagship product, the 10-piece Starter Kit (US$89), users can build simple electronics quickly and affordably.
"We spend more than seven hours with technological devices every day, yet most of us don't even know how they work," said littleBits founder and MIT Media Lab alum Ayah Bdeir. "littleBits aims to break the boundary between the things we consume and the things we make, and make everyone into an inventor. We want littleBits to be an affordable educational tool that is used in schools everywhere, and our new funding and new relationship with PCH means that we can now expand our team of super stars and reach even more people around the world."
Bdeir was recently awarded the TED Fellowship and participated in TED2012 in Long Beach where she delivered a talk about littleBits and the future of play, available at TED.com.
"We are thrilled to be a part of the littleBits vision," said Jon Callaghan, co-founder of early-stage venture capital firm True Ventures. "Ayah is exactly the type of founder we strive to work with at True, and her passion for building a platform that inspires and propels the creativity of the world's next generations of creators aligns perfectly with our mission," he said. "littleBits is a product that captures the imagination and has the potential to dramatically change the way the world thinks about education and play in the digital era."
To further expand littleBits' global reach, PCH International will run its manufacturing, supply chain and logistics, making littleBits the youngest company to ever partner with PCH on a wide-scale product launch.
"Ayah has the vision and ability to take littleBits global and make it a household name," said Liam Casey, CEO and Founder of PCH International, manufacturer of consumer and medical electronics, packaging, and accessories for some of the most iconic companies in the world. "We work with companies that are passionate about design, about their brand and about the consumer experience. We are proud to partner with littleBits to help them reach the next phase of their rapidly growing trajectory."
To encourage innovation, the littleBits platform is open source and enables anyone to redesign and share their own creations online, turning electronics and circuits into collaborative tools.
"Open source software lowered the costs of innovation for software and Internet services and pushed it from big companies to startups," said Joi Ito, who led a seed round for littleBits in September 2011 and played an integral role in the development of open source as a movement. "The same thing is now happening in hardware, and littleBits is one of the companies leading the way."
Since its debut in September 2011, littleBits has created and released more than 30 products on the market. The company has been overrun with demand and has sold to parents, artists, designers, developers, schools, universities and many others in countries including the U.S., Canada, India, Japan, the UK, Australia, Mexico and Chile. The Museum of Modern Art has acquired littleBits for its permanent collection, and Popular Science named littleBits "Best of Toyfair 2012."