Fight Against Counterfeit Goods Goes Global in Effort to Find and Prosecute Foreign Counterfeiters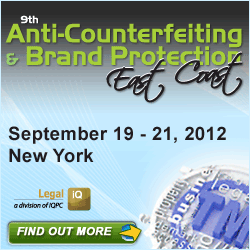 IQPC's 9th Anti-Counterfeiting & Brand Protection Summit – East Coast brings together anti-counterfeiting experts from around the world to share comprehensive approaches to combat counterfeiting
New York, NY (PRWEB) July 21, 2012
Legal IQ, a division of IQPC, announces the 9th Anti-Counterfeiting & Brand Protection Summit, September 19 to 21, 2012 in New York, NY. The summit brings together brand managers, directors of investigations, legal counsel, and law enforcement officials in an open forum to discuss comprehensive approaches to combat global counterfeiting.
As the fight against counterfeiting expands worldwide, companies are learning how to use resources within other countries to shutdown counterfeit operations. Hypertherm, Inc. is one company that took its fight against counterfeiting straight to the source. In a recent interview, Brett Hansen, Corporate Intellectual Property Counsel at Hypertherm, spoke about their success in prosecuting a Chinese manufacturer that was counterfeiting their replacement parts. "We found the company, did an undercover investigation and were able to collect a notarized sample and sued this company in the Chinese legal system, in their local court," said Hansen. Hear more about the case and the tactics they used in the podcast interview, available here.
The 9th Anti-Counterfeiting & Brand Protection Summit covers topics ranging from the expansion of the online global counterfeit marketplace, to the increased use of social media, and provides strategies for addressing counterfeiting, including alternative approaches to outwit counterfeiters and leveraging technology and global processes to develop a robust anti-counterfeiting and brand protection strategy.
Featured speakers include global leaders in intellectual property protection including Rosetta Stone, Conair Corporation, Lacoste, Louis Vuitton, Symantec Corporation, U.S. Customs and Border Protection Office of International Trade, and more. This year's program focuses on:

Conducting internal brand protection audit to assess how well a product is secured throughout the distribution chain
Overseeing the internet and online marketplace for the sale of counterfeit goods
Working collaboratively with law enforcement to secure your products
Utilizing technology that is effective and appropriate for your product
Training employees on how critical IP protection is to the company's success
Educating consumers on the danger of counterfeit products
Registering your trademarks and trade dress in countries where your products are manufactured and/or sold
For more information on the 9th Anti-Counterfeiting & Brand Protection Summit - East Coast event, please visit http://www.anticounterfeitingsummit.com or contact Manjula Dharia, Program Director at Manjula(dot)Dharia(at)iqpc(dot)com.
About IQPC
IQPC (http://www.iqpc.com) provides business executives with tailored practical conferences, large-scale events, topical seminars and in-house training programs. Producing over 1,500 events annually around the world, IQPC continues to grow and has offices in cities across six continents including: Berlin, Dubai, London, New York, Sao Paulo, Singapore, Sydney, and Toronto.
Contact:
IQPC
Taryn Soltysiak
T: +1 212-885-2700
F: +1 888-231-7864
http://www.iqpc.com

For the original version on PRWeb visit: http://www.prweb.com/releases/prweb2012/7/prweb9718226.htm