Taos, NM: More Pet Friendly Lodging & Eateries than Any Other Same Sized SW Town - Page 2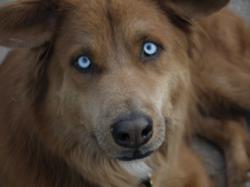 Just 30 minutes west of Taos in Tres Piedras, the Taos Dog Camp provides 125 acres of open space for dogs to climb rocks, chase rabbits, swim, and play. Pick up and drop off is available if needed. The camp only accepts friendly, well trained dogs. For more information contact debbie(at)dragonwyckeranch(dot)com; call 575-758-8060 or visit taosdogcamp.com.
Visitors to Taos may want a memorable souvenir of their experience with their pets – something in which artist Krista Brooks of the Carson House Shop specializes. Brooks' 8x10 inch prints are available for sale at the Carson House Shop and feature "works of arf" depicting several breeds of dogs as "patron (dog) saints." For example, a painting of the "San Terrier de Yorkshire" depicts a terrier as the Patron (dog) Saint of Perpetual Treats. Each print is $20. Custom paintings of pets can be created using oils on canvas, tile, or as bisque Christmas ornaments, simply by submitting a photo of your pet. The Carson House Shop is located next to Kit Carson home and Musuem at 117 Kit Carson Rd. Call 575-758-0113; email carson(at)taosnet(dot)com ; or visit carsonhouseshop.com for details.
For a complete list of pet friendly lodging facilities, eateries, and more visit http://taos.org/visit/furry-friends.
For the original version on PRWeb visit: http://www.prweb.com/releases/prweb2012/7/prweb9718156.htm