Hawaii: Elite Athlete Field Announced for 16th Annual Molokai-2-Oahu Paddleboard World Championships on July 29, 2012, Presented by Kona Longboard Island Lager - Page 2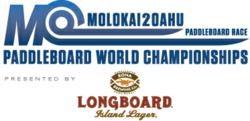 Although the humble race ambassador did not win in 2011 and lost her course record, it should be noted Duncan-Seraphin set the previous record of 5:53:49 in 2004 on a typically slower stock board compared to the sleek unlimited boards the fastest paddlers use today.
A pair of 26-year-old Americans will push the women's field. Hawaii transplant Leane Darling, who now lives on Oahu, recently finished second to Duncan-Seraphin at the 17-mile Cline Mann race on Oahu. Both women share competitive swimming backgrounds. Duncan-Seraphin swam for Cal Poly San Luis Obispo and Darling qualified for the 2008 Olympic trials.
Another teenage Australian, Bronte Hartland, 18, will give chase in her first attempt at paddling the channel.
The top male SUP paddlers are back this year led by 17-year-old Connor Baxter. Last year, the Maui native set a course record en route to his first M2O championship (4:26:10). Since then, Baxter has been consistently claiming top finishes, most notably in the Maui Triple Crown of Paddling.
Scott Gamble's second-place finish (4:30:10) to Baxter last year was the result of several missteps during water bottle exchanges with his team boat in the closing miles. Should the 36-year-old Oahu resident improve this year, the 2011 result could likely be reversed.
Race fans will want to keep their eyes on 19-year-old Kai Lenny from Maui. After dominating the world SUP surfing championship for the past two years, Lenny will compete this year on a stock SUP board. Even racing on a stock board, he is likely to finish top five overall and has a good chance of beating his counterparts who will all ride unlimited boards. Lenny first completed the M2O at the age of 13 with his father.
Andrew Logeco, the two-time men's SUP stock champion (2010-11), won't make Lenny's crossing easy. The 27-year-old from Oahu has experience on his side and the top stock SUP finish times - 5:13:45 set in 2011 is his fastest.
Also from Maui, Brazilian born Livio Menalau is back after finishing third just three minutes behind Gamble (4:33:13) in 2011.
The SUP champion in 2010 and famous big wave surfer Dave Kalama returns. He was one of seven men to post top-ten record setting times last year on his way to a fourth place finish (4:46:52).
The women's SUP race will be focused on three names: Andrea Moller, Talia Gangini and Jenny Kalambach.
Moller, 32, who was born in Brazil and now lives on Maui is again the odds-on favorite as she returns to defend her 2011 title. With her win, she also set the current course record of 5:26:51. In addition to her talents on an SUP board, the full-time mom and emergency medical technician is credited as being the first woman to surf the big wave break known as Jaws.
At the age of 19, Gangini holds the second fastest time on record (5:30:57) set in 2011 when she finished second to Moller by four minutes. Given her focus on training this year, the Maui native will be a formidable competitor.
Kalambach, 29, the women's 2009 champion from the Big Island, will push the pace on Moller and Gangini. Last year, she finished fourth in a time of 5:46:11.
The toughest way to cross the channel is on a stock board, measuring up to 12 feet for prone paddlers or 12 feet, 6 inches for SUP. The following are a collection of outstanding solo athletes who will compete in the stock traditional paddleboard category:
Jack Bark, 18, Rancho Palos Verdes, CA, 1st place stock team category, M2O 2011
Zeb Walsh, 29, Victoria, AUS, 4th place stock, M2O 2011, Patagonia athlete
Fletcher Davies, 17, Newport Beach, AUS, 3rd place stock team category, M2O 2011
Kaniela Lyman-Mersereau, 26, Honolulu, HI, 2nd place stock, Cline Mann race 2011
Kai Hall, 36, Haleiwa, HI, 3rd place stock, Cline Mann race 2011
The popularity of paddleboarding and the challenge of the channel are also attracting world-class athletes from outside the paddling elite. One of surfing's most respected athletes Rob Machado will take his wave riding skills to the start line on Molokai in the team SUP category with M2O veteran and long-time friend Brian Szymanski.
Top ranked professional surfer and current ASP world tour world title contender Joel "Parko" Parkinson is partnering with his trainer and fellow Australian Wes Berg in the two-man stock paddleboard category.
Follow live race results on Facebook and Twitter (#M2O). Molokai2Oahu.com is the official race website.
Duke's Waikiki continues its long-time support of the event by hosting athlete packet pick-up on Thursday, July 26. The awards ceremony is held at the famous Outrigger Canoe Club. The race starts on Sunday, July 29 at 7:30 a.m. from the west shores of Molokai, finishing on the beaches of Oahu at Muanalua Bay.