Chicago Real Estate Firm @properties Names Kevin Van Eck Director Of Agent Development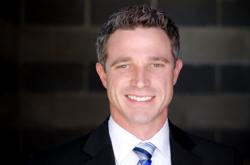 Van Eck will concentrate on training, coaching and business development for Chicago real estate agents
Chicago, IL (PRWEB) July 24, 2012
Chicago real estate brokerage company @properties, the largest residential brokerage firm in the city and the fastest growing brokerage firm on the North Shore, has named Kevin Van Eck, 33, director of agent development. Company co-founders Thaddeus Wong and Michael Golden made the announcement.
Van Eck joined @properties in 2008 as a licensed real estate salesperson. He was an @properties and Chicago Association of REALTORS® Top Producer in 2009, 2010 and 2011. In his new role, he will be responsible for the creation and implementation of educational, training, and business-development initiatives for @properties' more than 1,100 brokers in the city and suburbs. He will also serve as a performance coach to @properties' Chicago real estate agents, helping them set and achieve business goals.
"We're continuously focused on providing agents with the very best services to help them build their business and accomplish their professional goals," said Wong. "Kevin has dedicated his career to client service, making him a natural fit for this position. He will be instrumental in the ongoing development of our agents and the company as a whole."
"Kevin is approachable and organized, and is very skilled when it comes to building and maintaining relationships. He also knows what it takes to be a top producer in this industry. All of these qualities will make him a great advisor and resource to our agents," said Golden.
Prior to joining @properties, Van Eck spent several years in the restaurant industry, working as a managing partner at Corner Bakery Café. He also served in the United States Army and Army Reserve.
Van Eck is also very involved in philanthropy. Since 2009, he has served as president of the executive board of @properties' Friends and Neighbors Community Fund, a non-profit foundation committed to supporting local charities with an emphasis on education, youth development and housing initiatives.
Van Eck attended the University of Illinois at Urbana-Champaign.
About @properties
Established in 2000, @properties is the No. 1 residential brokerage firm in the city of Chicago by market share and the third largest brokerage firm in Northern Illinois. @properties is also the Chicago area's leading firm for the sales and marketing of new-construction and condominium conversion developments. The company has offices in River North, Streeterville, Lincoln Park, Bucktown, Lakeview, Evanston, Winnetka, Lake Forest and Highland Park. For more information, visit http://www.atproperties.com.
For the original version on PRWeb visit: http://www.prweb.com/releases/prweb2012/7/prweb9716751.htm