Seat Sack Offers Tips on Making A Back-to-School Shopping List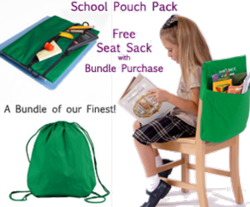 Seat Sack releases the top 5 recommendations when making a back-to-school shopping list. With back to school fast approaching, parents are receiving their teacher recommended back-to-school supply list. While stores are filled with countless products to get students geared up for school, Seat Sack has made a list of simple and practical products and solutions to get a students year off to a successful start.
Naples, FL (PRWEB) July 25, 2012
Markers and pencils and notebooks; oh my! Through the mad rush of trying to find all of the school supplies that students will need for a successful back-to-school season, the most important tool is often overlooked. So what is that secret supply that you need to be sure to cover on your back-to-school list? Prepare students for back-to-school with effective classroom and home "organization"!
Good organization skills play an important role in student success. According to the National Association of School Psychologists, "Most students understand a homework assignment and have the ability to perform the task but forget to bring home all of the materials required to complete it." Virginia Smith Harvey, the author of "Helping Children at Home and School," states that "students with good organizational skills find it easier to study and complete assignments." Teachers and parents must work together to help students learn good organizational skills. Not only should students be provided with the right organizational tools, but they also need to be taught how to use the tools, receive demonstrated practice on using the tools and often this means re-teaching and evaluating to make sure that what has been provided and taught are effective with the students learning styles.
How can students learn organizational skills?
1-Develop an Organized Routine. Repetition helps students to learn home and classroom activities. Routines allow children to predict what happens which provides security and preparedness. According to a Vanderbilt Education report, "schedules and routines facilitate children's understanding of the learning environment expectations." As parents and educators we should not assume that children will pick up on a routine. Take the time to teach and write out a schedule for students and walk them through the routine and expectations. Having a visible calendar where family activities can be tracked and prominently displayed is important for a visible clue each day. Have a prepared time each week to check and update the calendar.
2-Create an Organized Homework Binder. Researchers find that a common trait among students who are disorganized is the inability to keep track of their homework long enough for it to be turned in for a grade. Inside the binder it should be color coded by subject with a two pocket color coded homework folders for each subject and a matching divider tab. Colors should be coordinated with colors that the teacher uses in the classroom for each subject. The color coded two pocket folders should be marked on the left side, "Homework to Complete". Upon completion the assignment should be placed on the right side of the folder labeled, "Homework to Turn In". A red folder should be placed in the front of the binder and should be reserved for important or time sensitive materials such as permission slips, communication with parents and/or notes about special assignments or tests. Seat Sack recommends that tools to complete assignments be kept with the binder in a pencil pouch that slides on the front of the binder such as the Strap-n-Sack. This zippered pouch should have multiple pockets and provide a large enough area to hold even a calculator. Teachers and parents should emphasize the importance of the binder and its daily use during the first few weeks of school. They should also demonstrate how to use the binder and provide students with a time to maintain their binders.