PortaFab Offers Modular Electrical Wiring System for Prefabricated Buildings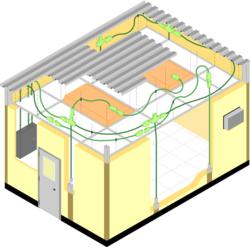 The new modular electrical wiring system from PortaFab simplifies and shortens the installation project for wiring a prefabricated building.
(PRWEB) July 28, 2012
PortaFab has developed a modular wiring system that complements their line of prefabricated buildings by significantly reducing the amount of time required to install electrical components. As traditional wiring methods are typically labor intensive and require extensive involvement from a certified electrician, PortaFab's modular electrical wiring simply snaps together, creating a uniquely simplified installation process. The only work required by the electrician is to bring the power to the circuit breaker box and make the conversion from hardwire to modular loop.
According to Mike Booker, Business Development Manager for PortaFab Modular Building Systems, "All outlet boxes, switches, wiring, and conduit fit neatly into the studs of the framing system with removable cover plates for wiring access, while recessed fluorescent light fixtures integrate seamlessly with the ceiling grid. Optional prewired circuit breaker boxes can also be included so that an electrician is only needed to hook up the power source to the breaker box, further simplifying the installation project and time frame."
The benefits of modular electrical wiring are far reaching and most notably include; a reduction in total labor cost, greater flexibility since all electrical wires can be disconnected and reconfigured if a change to the building or location is required, as well as a reduction in the total time for the completed installation. PortaFab's modular wiring system is also a greener solution compared to traditional wiring, as it minimizes construction waste while maximizing productivity, reusability, and the use of recycled materials. The latter creates an ideal solution for businesses looking to maximize LEED points through the use of modular construction.
"Our new modular electric wiring system allows our distributors to complete sales projects faster from the original purchase of a modular building to the completed installation. Often times the entire project is completed under budget as a result of the fast installation, and both of these benefits leave our distributors and end clients very happy" said Booker.
About PortaFab
Located in Chesterfield, Missouri, PortaFab Corporation has been a leader in the manufacturing and design of pre-engineered modular building systems, cleanrooms, and preassembled structures for over 25 years. For more information, visit http://www.portafab.com or call 1-800-325-3781.
For the original version on PRWeb visit: http://www.prweb.com/releases/prwebmodular/wiring/prweb9744207.htm