Easy Green Updates with Elegance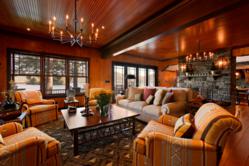 Helpful Tips and Trends in Eco-Friendly Interior Design from Belle Maison
Short Hills, NJ (PRWEB) July 31, 2012
Summer is a great time for home improvement projects, both inside and out, and modern trends are focusing more on minimizing one's carbon footprint by ditching energy-consuming lighting and appliances, excessive waste, and non-recyclable materials. "You no longer have to sacrifice style and elegance for more eco-friendly design. The key is to combine green design with great design in order to maintain the look and elegant feel of your home," said Catherine Engelmeyer of Belle Maison interior design.
There are many easy ways to "go green" that are both on trend and equally affordable. "First, you need to embrace natural and organic materials and ditch the particleboard, chromed metal, and plastic. You might initially spend a bit more money on creating an eco-friendly interior design up front, but the natural materials are very durable and high quality, making them more cost-effective in the long run," said Engelmeyer.
Another quick and easy eco-update is changing out your standard light bulbs for the new compact fluorescent light (CFL) and light emitting diode (LED) bulbs. These significant advances in lighting with fixtures that feature LED bulbs work well at a lower wattage, emitting less heat and using less electricity.
Engelmeyer is not new to the concept of eco-friendly design. "I've been in the vanguard of the green movement for years without knowing it due to my passion for antiques. By definition antiques were manufactured in the past, probably using organic materials, and by recycling them you are not abusing the planet in any way."
"From an Oriental coromandel screen, to a collection of English pill boxes, to a section of Doric column from an old building, antiques offer a character and evocative feel that most modern pieces can't match. And I'm not talking about Louis XIV credenzas. Found objects whose value is strictly in the eye of the beholder can fit perfectly into a well-thought out design scheme—and they are the ultimate in green decorating," said Engelmeyer.
For more great tips and trends on eco-friendly design with elegance, please visit http://www.bellemaisoninc.com/
About Belle Maison:
For over twenty years, Belle Maison founder Catherine Engelmeyer has created interiors with an aura of elegance. Blissfully comfortable, impeccably tailored and beautifully functional, they feature compositions of color, fabric and furnishings that delight both the senses and the soul. Catherine's French heritage inspires her work without limiting her options—a complete mastery of the decorative arts combines with a highly developed sense of empathy to create inspired solutions for discerning clients. Belle Maison has been featured in The Wall Street Journal, House Smarts TV, New York Spaces, Profiles NJ, New Jersey Monthly, and Design NJ.
For the original version on PRWeb visit: http://www.prweb.com/releases/prweb2012/7/prweb9712938.htm