KinderTown Celebrates 100 Days of Being a Top 100 Education App with Release of "Learning Map"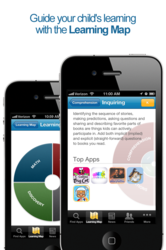 The new feature provides a curriculum-based approach to using educational apps
Malvern, PA (PRWEB) August 22, 2012
With more than 100,000 users, KinderTown is celebrating 100 days of being a top 100 educational app by releasing its new Learning Map feature. The Learning Map helps parents coordinate app play to focus on the subjects and skills most important to children in their early years. It acts as a guide for finding the best apps and what apps a child should play next.
KinderTown founder Steve Welch touted the Learning Map as just the latest in a series of tools that help parents teach and play with their children.
"As a parent of three young children, I know first hand how much kids love to use their parents' devices. We started KinderTown to help turn this enthusiasm into a fun learning experience. We built the Learning Map in response to a growing community of parents asking us how to combine apps to teach a specific skill," stated Welch.
The KinderTown Learning Map is a basic curriculum for early childhood development designed for use in the home by busy parents. Developed to look at the whole child, the map covers topics in Language, Math, the World and Self Discovery. Each subject is broken down further into more than 40 skills. Organized into 5 levels of difficulty, the Learning Map services the education needs of children ages 3-8 years old. The curriculum's design draws on numerous respected and well-researched early childhood development philosophies, offering parents a flexible guide to their children's education.
According to KinderTown's Director of Education, Carolina Nugent, the KinderTown Learning Map "makes encouraging children's cognitive, social and emotional growth more easily accessible to parents. The end result is a tremendous amount of useful knowledge directly in the hands of parents."
About KinderTown, Inc.
KinderTown is an educational app store and teaching guide that helps busy parents find the best apps for their young kids. Available as a free download for the iPad, iPhone, and iPod Touch, users have made KinderTown the highest ranked app discovery tool for educational apps. To download KinderTown, follow the link to the App Store at bit.ly/kindertown
Based near Philadelphia, PA, KinderTown was founded by Steve Welch with the mission of improving early childhood education by empowering busy parents with the tools to be better teachers. For more information visit http://www.kindertown.com

For the original version on PRWeb visit: http://www.prweb.com/releases/prweb2012/8/prweb9822913.htm