Cherry Expands Car Wash Service to San Diego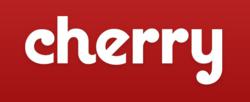 Expansion fueled by success and growth of on-demand car washes in the San Francisco Bay Area.
San Diego, CA (PRWEB) August 28, 2012
Cherry, the car wash that comes to you, today announced the company's expansion to San Diego, California. The announcement comes after consecutive months of strong demand and company growth in San Francisco and surrounding cities, where Cherry first launched in November 2011.
Cherry's service-on-demand model has proven successful, with the number of washes doubling month-over-month. To respond to growing demand and to prepare for expansion, Cherry has built a robust supply chain, strengthened its logistic processes, and doubled the number of its washers per month.
"Customers in the Bay Area love Cherry because we provide a quality service and also save them 60 minutes of time by not having to go to the car wash," said Cherry co-founder and CEO, Travis VanderZanden. "San Diego is an even better market for us because of the beautiful weather."
San Diego residents will benefit from the same car wash services for the same price Cherry offers to San Francisco Bay Area customers. Cherry has been testing their San Diego service in private beta for the month of August, training washers, and ensuring quality and reliable washes. The company uses smartphones and custom-built scheduling software to manage its mobile workforce and provide on-demand car washes anywhere within San Diego's city limits.
The Cherry car wash experience features:

Fast and easy service that brings car wash to the customer
Environmentally friendly products
Online ordering from any iOS or Android smartphone or tablet
Highly trained car washers that are friendly and reliable
Cherry chose San Diego as their next service area because of the right combination of ideal qualities and conditions for on-demand car washing service. San Diego county represents a substantial potential market with roughly one million cars for Cherry to provide its popular service.
Expanding to San Diego is part of Cherry's roadmap to become the first national car wash brand, but the company has not revealed future expansion locations. For more information, visit http://www.cherry.com
About Cherry
Cherry is the car wash that comes to you.
Download the app, locate your car, press "wash my car now," and Cherry sends their closest car wash professional to put the shine on your pride and joy.
We enable users to request a professional, on-demand car wash from any location, starting at $25. Our washers are thoroughly vetted and trained, so you can ensure that whether you're grocery shopping, in a meeting, or simply laying on the couch watching a movie, your car is getting the rockstar treatment it deserves.
For more information, visit: http://www.cherry.com or follow us on Twitter at @cherry.
For the original version on PRWeb visit: http://www.prweb.com/releases/prweb2012/8/prweb9844510.htm