Voxeo Labs Announces Ameche - The world's first Telco Communications PaaS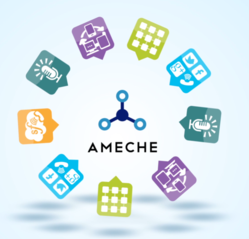 Voxeo Labs Announces Ameche - The world's first Telco Communications PaaS
San Francisco (PRWEB) October 24, 2012
Voxeo Labs announced today the availability of Ameche, a Communications Platform as a Service (cPaaS) delivering "Apps in your Calls™" - applications that work with existing calls and existing mobile numbers. Ameche helps both carriers and developers grow voice, video, messaging, and value added service revenues, an over $1 trillion market. Ameche provides the API's, tools, hosting environment and revenue models for a new generation of network-based communications applications.
Ameche represents a paradigm shift in thinking about how we communicate. It brings Apple's same ground-breaking "App Store" model to the mobile phone's most powerful and fundamental app, communications, by building a new ecosystem of app developers around communications services.
Ameche applications can be made available via a wide variety of channels including direct carrier portals for consumers and businesses, carrier partners and direct sales, Facebook, SalesForce AppExchange, Android's Play Store, and Apple's App Store.
Pat Patterson, Principal Developer Evangelist at salesforce.com, says "Ameche moves telephony-as-a-service from the edge to the core of the phone network, enabling powerful integrations with apps running on cloud platforms such as Force.com and Heroku."
Ameche is the newest offering from Voxeo Labs, the company behind Tropo and Phono and represents the latest in a powerful suite of closely integrated carrier-centric products. Voxeo Labs, along with its parent, Voxeo Corporation, has built an ecosystem of over 250,000 app developers who have launched and supported over 100,000 businesses and apps. In the coming months, Voxeo will release updated versions of Tropo and Phono that work seamlessly with the Ameche platform.
Ameche combines the best of the web and telecoms to create beautifully simple services for any mobile customer using any mobile device. Ameche's "Apps in Your Calls" model gives carriers and developers the ability to enhance existing mobile numbers and phone calls, unlike exclusively "over the top" (OTT) vendors who use separate virtual numbers to deliver platform features.
"Ameche is revolutionary, it makes your phone service programmable, whether you're using a smartphone, a tablet, a browser, your TV or even a fixed line phone," comments Jason Goecke, President & CEO of Voxeo Labs. "With Ameche, my phone calls and text conversations work alongside the cloud services I use every day."
Built using the Node.js dynamic runtime, developed and sponsored by Joyent, and PaaS technology similar to Heroku and Google App Engine, Ameche extends IMS (IP Multimedia Subsystem) and legacy mobile networks with web-friendly APIs. These API's enable new services to be safely deployed by carrier marketing teams, system integrators, and value added resellers; and hundreds of thousands of non-carrier developers. Because they live in the network, Ameche's apps work on any connected device including Rich Communication Suite (RCS) or "Joyn" clients, HTML5 WebRTC clients, Voxeo Labs own Phono clients, smartphones, and even the most basic feature phones.
"Ameche by Voxeo Labs is a new way of thinking about communication services, it brings the "app model" to telecom services by rewarding simplicity in the call. This will revolutionize our lives as we will never think of voice and internet services as separate ever again." says Jason Hoffman, Founder and CTO of Joyent in San Francisco.
Voxeo Labs' Ameche platform leads a new category called cPaaS (Communications Platform as a Service). Ameche enhances the mobile communications experience by enabling developers to mash-up real-time conversations with cloud services like SalesForce, Yammer, LinkedIn, and Google Apps.
"Ameche will allow our customers and interpreters to connect with each other through more than a simple phone call, making our service more universally accessible," Mayel de Bornio, co-founder of Babelverse.
Example uses cases include:
Social Call Status: Stay in sync with real-time Yammer updates or privately post your call activity Facebook to keep all your social conversations in one place.
Free consumer service available on Facebook to promote operator's brand - "You get a 'good son' badge for calling Mom on her birthday". For businesses, Yammer integration includes rules and additional features for a small monthly fee.