Social Media Marketing Company Gives $25 Free Fund for Every $100 Purchase on the BRM Client Portal™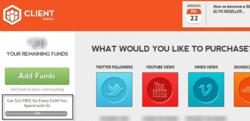 Buy Real Marketing, the leading provider of web 2.0 business applications and social media marketing services, has outdone itself again with its generosity. The company is giving away funds worth $25 for every $100 worth of purchase, whether it is a one-time purchase or an accumulation of purchases.
Ottawa, ON (PRWEB) November 11, 2012
Buy Real Marketing, the leading supplier of Twitter followers and YouTube Views, gives away BRM Client Portal™ funds worth $25 for every $100 spent, whether from a bulk purchase or several purchases.
The company has been very generous with the discounts, promos and contests these past months, all of which are part of the giving back mission of Buy Real Marketing. With its success in providing social media marketing support to businesses and aspiring artists through Twitter followers, YouTube views and other in-demand social media services, the company felt it's a long time coming to give loyal clients what they deserve.
Musicians, artists, marketers and other businesses hoping to gain traction and popularity online will have a chance to improve further their strategies with this additional boon. "It's not anywhere you see a service that lets their clients earn while they spend. Buy Real Marketing does that, since we know the value of patronage and loyalty, which we make sure are rewarded," says JP Bisson, Managing Director for Buy Real Marketing.
Buy Real Marketing is a pioneer company that aims to assist small to medium businesses grow by helping them gain an edge on social media. The YouTube views service of Buy Real Marketing is an example of an essential element of online video marketing especially for those who want to become popular on the video platform- the home of new music artists and start-up businesses.
The company offers social media services such as Twitter followers, YouTube and Vimeo views, Tumblr and Pinterest followers and SoundCloud plays with an attached 100% Money Back Guarantee. They house skilled and friendly customer support available 24/7 via phone, chat and emails.
To know more about the company's services, visit their website at http://www.buyrealmarketing.com or contact them at 1-877-435-5955.
About
Buy Real Marketing is owned by Clicking Labs. Clicking Labs is a well-established internet marketing company founded in 2010 by Jean-Patrick Bisson, Diana Quartin and Jonathan Kennedy. The company specializes in driving search marketing and social media traffic, social web app development and conversion optimization. Each product or service specifically helps small/medium website owners increase online visibility and improve online sales.
###
For the original version on PRWeb visit: http://www.prweb.com/releases/prweb2012/11/prweb10114904.htm