Cupid's New Canoodle Finds People Who Like What You Like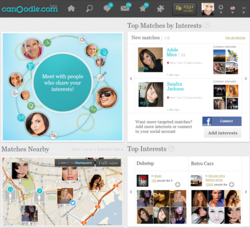 Canoodle.com uses social discovery techniques to connect people with the same interests and who like the same things — just like the way people meet in the real world.
PALO ALTO, Calif. (PRWEB) November 29, 2012
The enormous popularity of Facebook and other social media websites has made it fun for millions of people see exactly what their friends' interests are — and discover shared interests. But what about finding new friends based on what interests you? Cupid plc [LSE AIM: CUP] has just launched a new website that complements popular social media websites and matches singles who share the same interests.
Canoodle.com, which launched in beta format today, aims to break the ice that typically exists on traditional online dating sites by mining social media to understand what people like, and then connect people with similar interests and tastes.
"Most dating sites ask you to 'merchandise' yourself online by describing yourself in as much detail as possible, but that's not how most of us encounter a friend or mate. We think it makes much more sense to connect people who like the same things," said Bill Dobbie, CEO and co-founder of Cupid, the company that designed Canoodle. "By integrating Canoodle with Facebook, we can get a very accurate understanding of what a Canoodle member likes, and then make smart decisions to connect that person with another member who likes the same movies, TV shows, books, restaurants, and countless other brands and experiences."
Canoodle.com is a great new way to meet people and with a high probability of successful matchmaking because, every day, millions of Facebook users are "liking" brands, websites, and other experiences. Setting up a Canoodle account is incredibly easy — Canoodle learns about you via a standard Facebook login. Members can also highlight specific interests on Canoodle (for example films, TV shows, actors/directors, musicians/bands, sports, local business, celebrities, restaurants, and more). And, using FourSquare, mobile users can also connect with nearby singles whose interests match theirs.
Canoodle.com features include:
■ One-click Facebook integration and automatic detection of a user's personal likes.
■ Match by Interest and Match Nearby recommend people who like the same things as you.
■ Centralizes all your favorite Facebook news and media apps in one place. Users can also add their personal pages and social network profiles to the newsfeed.
■ Foursquare integration provides a map of nearby Foursquare and Twitter users.
■ Content aggregation feature retrieves music, videos, hot topics and trends from other sites.
■ Free chat rooms for discussing specific interests (such as music, movies, cooking) with others.
■ Comment on other members' posts and images.
■ Unlimited private messages and chats for free (most social discovery sites charge for this).
■ A downloadable desktop client lets you chat with your Canoodle friends and your Facebook friends, all in one place.
Canoodle is available today as a beta product on the Web (Canoodle.com), with apps for Apple iOS, Android and Facebook planned for imminent release.
ABOUT CUPID PLC
Since its formation in 2005, Cupid has established itself as the global leader in online dating, with a base of more than 54 million members in 58 countries, and revenues of £53 million in 2011. Cupid plc was listed on AIM in June 2010 (LSE AIM: CUP). The company offers a wide variety of online dating services (traditional dating, casual dating, and niche dating) that appeal to dating users of diverse ages, cultures, and social interest groups. Visit Cupid plc on the Web at http://www.cupidplc.com, and follow us on facebook.com/cupidfanpage and Twitter@cupidplc.
For the original version on PRWeb visit: http://www.prweb.com/releases/prwebcupid-plc/canoodle/prweb10185242.htm