Introducing the New Apple TV Mount from Tryten Technologies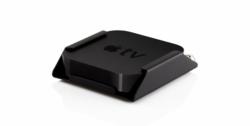 Tryten Technologies, a leading physical computer security provider, is excited to announce the release of a new and innovative Apple TV Mount.
Seattle, WA (PRWEB) November 29, 2012
As the digital age continues to permeate areas of culture and commerce, Tryten Technologies, a leading physical computer security provider, is proud to release the new Apple TV Mount. Tryten's Apple TV mounting system allows the user to easily and securely attach the Apple TV to any flat surface, including the backside of any flat screen television.
The recent release of the new Apple TV has been met with broad acclaim. By drawing on various media inputs, the device has been favorably received not only by end consumers, but also by enterprise managers in search of new digital solutions for a variety of applications. Michael Fairbanks, President of Tryten Technologies states: "We've seen particular interest in the new Apple TV Mount for use in lobbies, hotel rooms and hospitals allowing public spaces to fully enjoy the benefits of the Apple TV. In these types of settings, physical security is often of primary concern, so managers are delighted to know that they can implement the device without compromising on security."
Tryten's Apple TV Mount is a simple and seamless mounting system manufactured in North America from premium aluminum materials. The mount's material and design resists prying and twisting. Aided by the inclusion of a high security, anti-pick, solid-steel lock, the mount virtually eliminates the possibility of theft. Versatile mounting options allow users to secure the device to any flat surface, including the back of a monitor or to any TV with the standard 75mm or 100mm VESA mount pattern. In addition, Tryten's rigorous testing confirms zero interference with the WiFi signal strength. Fairbanks explains, "The Apple TV Mount was designed to specifically meet the unique concerns of these business customers affordably and securely."
The Apple TV Mount is available at http://www.tryten.com/products/Apple-TV-Mount.html and other online and offline retailers.
About Tryten
For nearly twenty years Tryten Technologies Inc. has worked closely with organizations from around the world to develop physical computer security solutions that best adapt to each unique environment. Our innovative and timely product offerings are developed through relationships with an impressive range of technology and Fortune 500 companies, as well as through dealings with the government, healthcare and educational sectors. At Tryten, we recognize the unique challenges that organizations face when securing highly sensitive information and equipment. The Tryten Solutions Team is trained to assimilate cutting-edge technologies in order to fully secure your valuable equipment in any location.
For more information, please visit: http://www.tryten.com.
For the original version on PRWeb visit: http://www.prweb.com/releases/prweb2012/11/prweb10178729.htm