Enterprise Data World 2013 Agenda Announced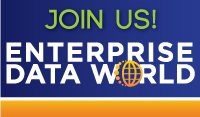 Recognized as the most comprehensive data management educational conference in the world. 800 Business and IT professionals expected to attend.
Los Angeles, CA (PRWEB) November 30, 2012
DATAVERSITY™ and DAMA International announced the agenda and opening of registration for their 2013 Enterprise Data World Conference (EDW). EDW is the business world's most comprehensive vendor-neutral educational event about data and information management. The event will be held at the Sheraton Hotel and Marina in San Diego, CA April 28-May 2, 2013.
Over five days, EDW presents a diverse schedule of programming that addresses every level of proficiency, including keynotes, workshops, tutorials, case studies, and discussions. In addition, attendees can take advantage of two days of exhibits offering up-to-date solutions to the pressing data challenges from over 30 of the premier companies in the field.
"EDW will have something for everyone, but the major themes for the conference this year are Big Data, Data Governance, New Database Technologies and Agile Data Management," Tony Shaw, CEO & Founder of DATAVERSITY™ said. "The educational program for Enterprise Data World is packed with case studies from these organizations willing to share their methods for success."
Just a sample of the confirmed practitioners who will speak are:

Bank of America - Sheila Jeffrey, Senior Information Architect - SVP
Blue Cross Blue Shield - Jay Smith, Managing Director of Data Architecture
Costco - Elizabeth Pickering, Data Architect
General Dynamics - Bob Schork, Enterprise Data Architect
HD Supply - Joy Medved, Sr. Data Governance Analyst
Johnson County, Kansas - Paul Stewart, Manager of Data Administration
Manulife Financial - Igor Ikonnikov, Information Architect
Moneygram - Andrea Thomsen, Director, Enterprise Information Architecture
Prime Therapeutics - Luminita Vollmer, Senior Data Architect
Research in Motion, Corp. - Kendle Des Rosiers, Data Governance Manager
Salesforce.com- Mehmet Orun, Director, Data Quality
Sears Holdings - Susan Earley, Senior Data Architect
Target - Mark Ouska, Enterprise MDM Data Architect
UnitedHealth Group - Richard Howey, Senior IT Data Analytics Consultant
Walgreens - Michael Jennings, Director, Data Governance - Enterprise Architecture
Now in its 17th year, the EDW curriculum is designed to address all the learning needs of business executives and IT professionals through tutorials and workshops, case studies, discussions and product demonstrations. The EDW program is also renowned as an early warning system for information industry innovations and emerging solutions.
The conference agenda is suitable for all levels of knowledge and experience. Foundational "How to" sessions will help those who are starting out in enterprise data management, while experienced practitioners will learn from advanced case studies and technical presentations.
Subject areas to be covered include:
Data Governance & Stewardship
Big Data
Master data management (MDM)
Data Architecture
Enterprise Information Management
Data Quality
Unstructured Data
Analytics & Business Intelligence
NoSQL, Non-relational Databases and Hadoop
Data & Application Integration
Metadata
Modeling
Management & Methods
Agile Data
Enterprise Data World is sponsored by some of the industry's top companies including: Adaptive, Dell Boomi, Global IDs, CA ERwin, Data Advantage Group, Denodo, Meta Integration Technology, Sybase Power Designer, ASG Software Solutions, Collibra, Embarcadero Technologies, Inc., JJR Solutions, Melissa Data, Morgan Kaufmann, Spry, Cozyroc, Expert System, Orchestra Networks, Tableau Software, and Uniserv.
For sponsorship opportunities please contact Warwick Davies at Warwick(at)dataversity(dot)net.